Miradores de Solana a great walk during hiking Spain, Alicante
Hiking Spain Alicante; The Sierra de Mariola is a one and a half hour drive from Refugio Marnes. Via the AP-7 highway is the fastest option to get there. However, the route via Callosa d'en Sarria and El Castell de Guadalest is recommendable because of the beauty of the surroundings, this extendeds the traveling time by half an hour.
Hiking Spain Alicante: The first walk in this area starts here, at the 'preventorio' of Alcoy. In the 1950s the Spanish government commissioned building these preventorios to serve as a hospital for example for children suffering from tuberculosis. This preventorio in Alcoy now serves as a residence for the elderly.
Hiking in Spain a great idea the whole year trough
Hiking Spain Alicante;This route is two kilometers long and is easily accessible, the duration is approximately one hour / one and a half hour. Indications of the Comunidad Valenciana (with the cartoon character bird) show the yellow route which has to be followed. A picnic area is passed where there are benches, tables and so-called 'paelleros' where the Valencian families gather to prepare their paellas. The path of stones is laid in loops and climbs gradually, as you get higher up the views get more beautiful. Once at the top, the cross of iron (see photo) is reached, 26.2 feet high, which can be seen from the surrounding areas, we are at an altitude of 3021 feet above sea level. This actual cross is put here in the 1950s as a substitute for the original wooden cross which was destroyed in during the Spanish Civil War. Next to the cross the chapel 'Ermita de Sant Cristòfol' is situated.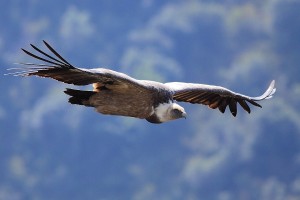 On the one hand, we literally look down at Alcoy, the city with about 60,000 inhabitants. On the other side there is the so-called 'Buitrera', where the reintroduced vultures are being fed. Here you will find more information about this species. On this hike there is a chance that you can see these griffon vultures soaring overhead, so be aware and make sure you do not miss them! The way back to the starting point of the walk is slightly less steep than the way up, it is a matter of following the signs of the yellow route. This short route can be combined with a visit to Alcoy or another hike in this beautiful reserve
Have fun hiking in Spain and Alicante!