Stay in the heart of nature at a Bed and Breakfast located on the Costa Blanca
B&B 'La Finca' is a part of Agriturismo Refugio Marnes. At 'La Finca', you are welcome to stay in three delightful bed and breakfast rooms in the countryside of the Costa Blanca, Spain.
An sustainable-holiday destination in the Alicante region, you can enjoy all the good things that Spain has to offer in a rural setting.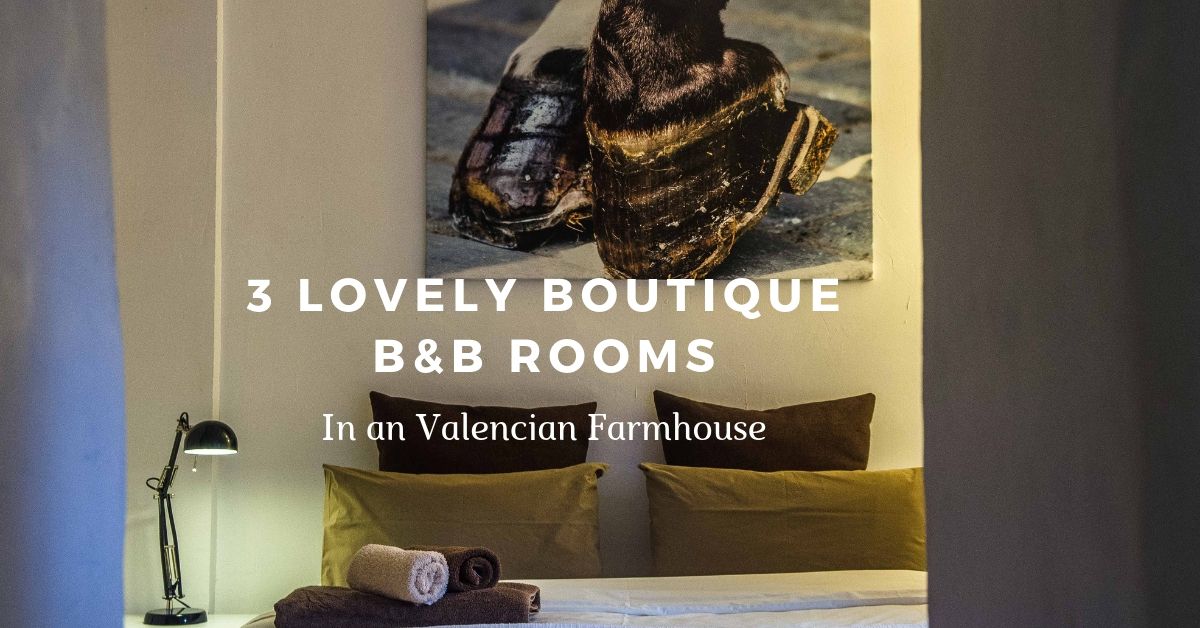 Once an old Valencian farmhouse, now an eco & chic B&B
Of the three bed and breakfast rooms in our special place to stay in Spain, there is one bed and breakfast room with bathroom and en-suite. The other two guest rooms share a bathroom located adjacent to the hallway. All three bedrooms are located on the first floor. Downstairs, there is a quiet relaxing veranda, perfect for chilling out. Guests of La Finca have unlimited use of our beautiful and private emerald green swimming pool.
Each B&B room has its own unique character, and is equipped with a wardrobe and sufficient sockets for charging your electrical items. Drinks are kept cool in a refrigerator on the landing, along with a cool storage room for food items. Free Wifi is available in the entire house. If you prefer a guest room on the ground floor, look here for our B&B rooms in the old stables, known as Los Establos. During the odd cooler months in the Costa Blanca, all of our rooms have central heating. Would you prefer a B&B room on the ground floor? Then have a look at our Rooms in Los Establos 
Book this b&b on the Costa Blanca now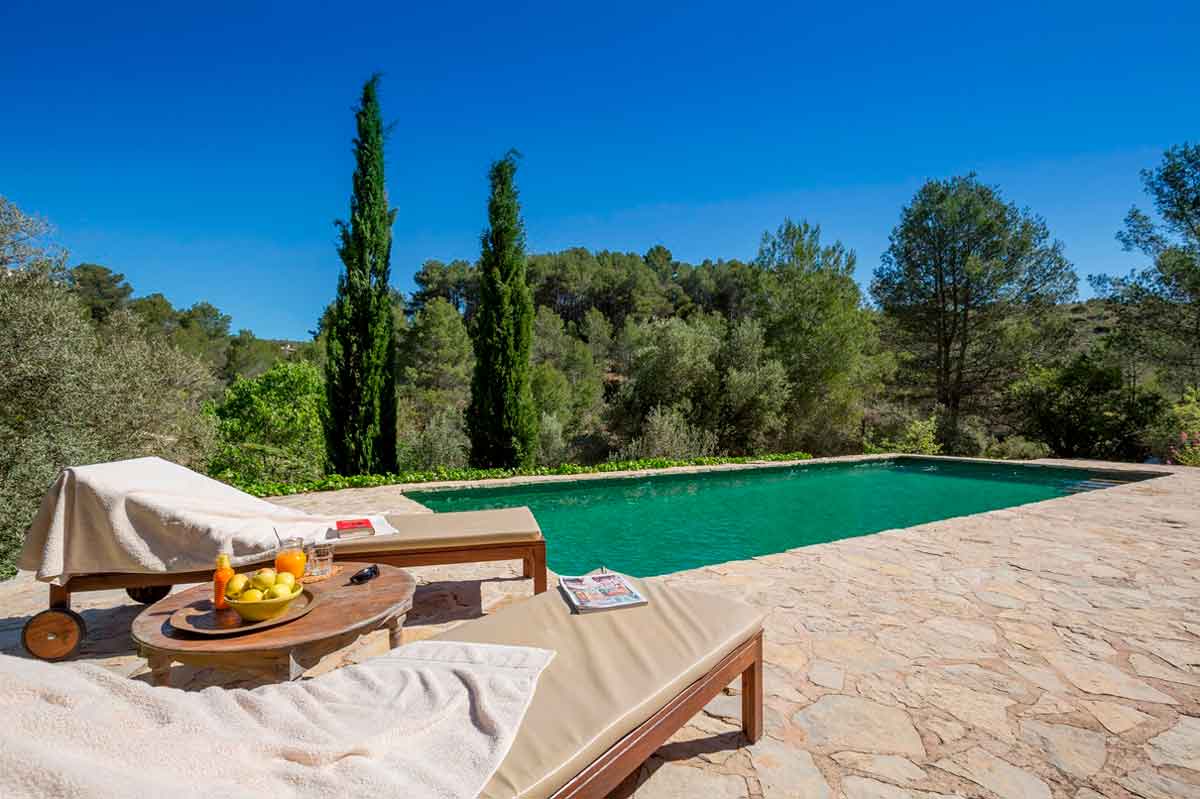 Bed and Breakfast 'La Finca', where rustic & modern blend perfectly
La Finca is the main building of the 20-hectare complex that we purchased 16 years ago. At the time of purchase, the house was completely stripped of all its charm and old elements. Now it is a comfortable house with 3 guest rooms that are all worth seeing.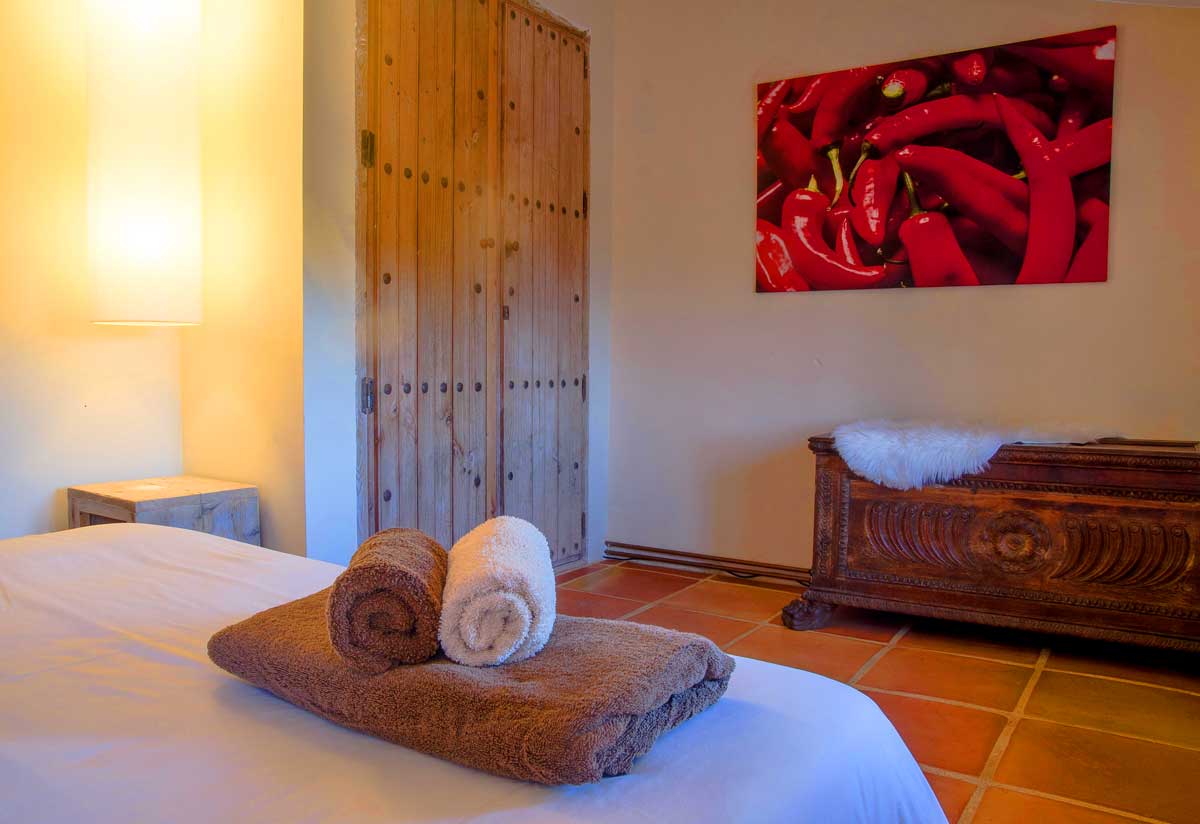 During the renovation, we tried to find a good mix between old and modern loft-like elements. An important criterion was that it should be 'earthy' and use honest materials. That is why we have used steel, glass, terracotta, concrete and glass mosaic, for example.
A Rural haven on the Costa Blanca, watch the video here
In this B&B Costa Blanca, step back in time, but in a comfortable way
This Bed and Breakfast in Alicante province has the layout of an old farmhouse. The farmhouse has a veranda at the front, or 'Porche' in Spanish. This space was once used for drying tomatoes, grapes, onions, peppers, etc.
In the veranda, our guests can have a drink, read a book or use the internet. Behind the veranda are doors leading to the spacious living room with fireplace, generous dining area and kitchen. The kitchen has a view of a shady patio area located at the rear. The rooms of this B&B are on the first floor.
The surroundings of our bed and breakfast Costa Blanca
Our Costa Blanca B&B is located in between the mountains of the Sierra Bernia and the Jalon Valley, in the heart of the province of Alicante. Our area is distinguished by sun and sea, however there is still a large area of countryside which remains untouched here, and this is the part of the Costa Blanca where we are located. When designing casa rural & agriturismo Refugio Marnes, we had in mind that our clients are in need of originality, good design, and above all, tranquility.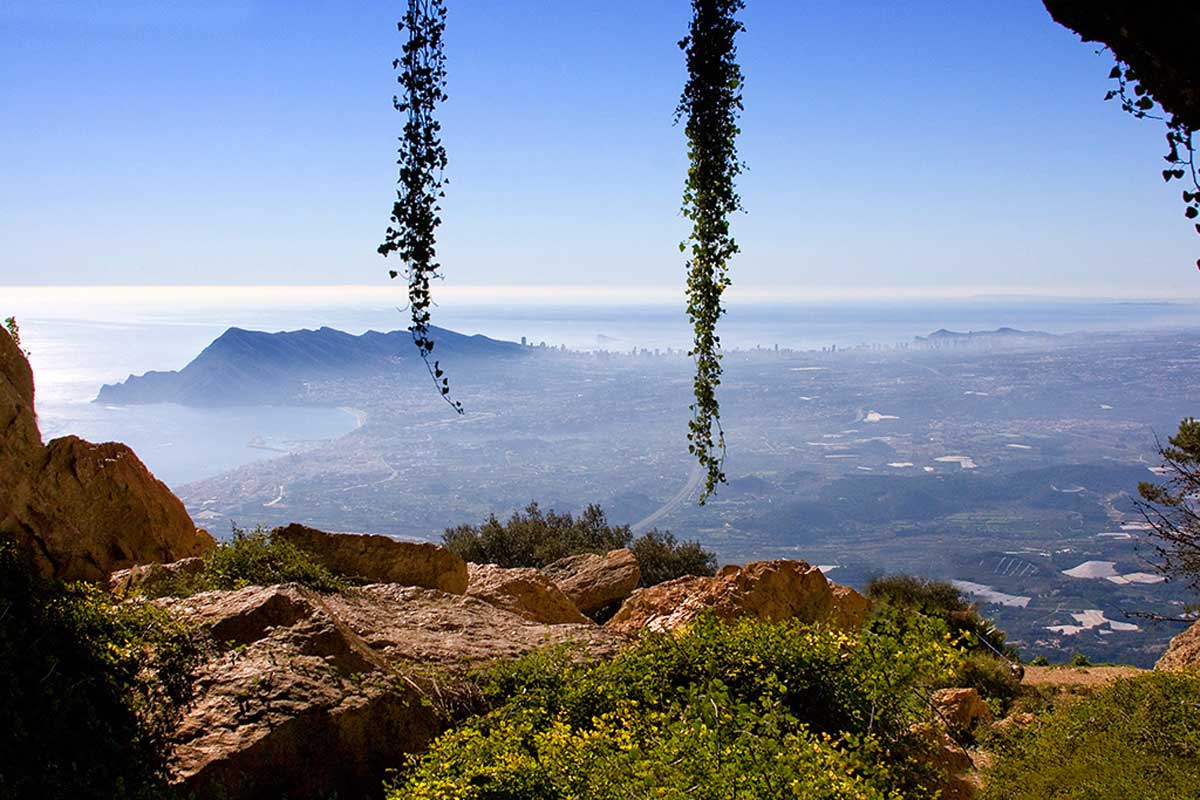 In line with a great need for relaxation, we chose a place in the middle of nature. The location, together with the gifted climate of the Costa Blanca, makes this place an ideal holiday environment to celebrate or de-stress. The bed and breakfast could be considered as a perfect secret hideaway in the Costa Blanca to get away from it all.
Alicante is one of the three provinces of 'La Communidad Valencia' (or just Valencia as this region is often referred to in English). It consists of the provinces of Alicante, Valencia and Castellon. The village where Refugio Marnes and La Finca are located is Lliber (pronounced Yeebear). The first larger town is Benissa. Benissa is 20 minutes away by car. It is also a short drive to the Jalon Valley and the beaches of Calpe.
There are more than enough banks, supermarkets and other facilities in Benissa. The distance from Refugio Marnes to Alicante city is 1 hour and Valencia a little more, namely 1 hour and 15 minutes. This makes it easy to reach from both Alicante and Valencia airports. Other towns villages of the Costa Blanca which are delightful to visit are Altea, Javea, Moraira and Denia. We are also located beside the superb walking holiday location of the Sierra Bernia.
Sustainable tourism as the basis for this b&b in Spain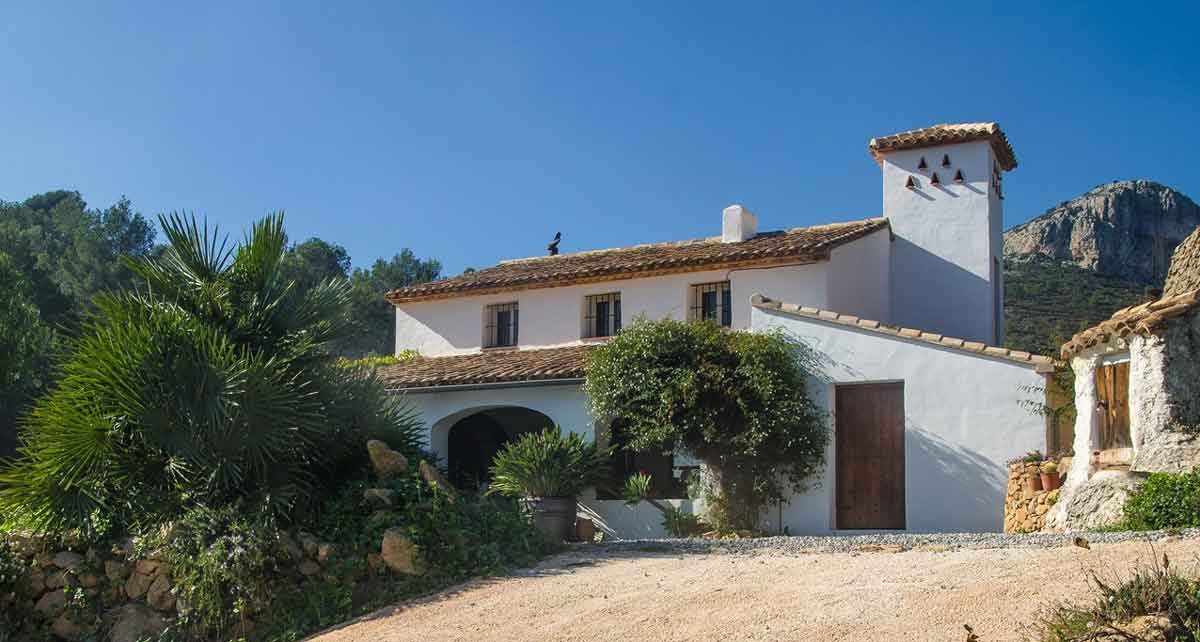 With the purchase of our large Finca – or farmhouse – the house and land were abandoned for more than 10 years, and there was no water, no electricity and no access for cars. With that in mind, we developed this holiday destination in Spain to be as green and eco-friendly as possible. We have done everything sympathetically in order to restore or rebuild the buildings to their original style, as much as we possibly can.
Furthermore, our electricity needs are met by a large solar power system. Without our guests noticing, we do everything we can to save water in the drier climate of Spain. To this end, a system is used which produces sanitized drinking water for the whole of Refugio Marnes.
Thanks to these facilities, we have made the use of plastic water bottles largely a thing of the past. We have our own water treatment plant, which purifies all waste water. This installation turns waste water into water suitable for irrigating plants and trees. We also strive to use sustainable cleaning agents as much as possible in our business operations. We also purchase our products and services as locally as possible.
La Finca' can also be found on the website of 'La oficina de Turismo Vall de Pop', the Jalon Valley tourist office website. If you prefer a ground floor bed and breakfast room, do have a look here at Los Establos. Maybe you might be looking for a holiday home instead of a B&B room? If so, then take a look at our independent cottage, La Ruina for your cottage holidays in Spain  or our delightful six to eight person holiday home for your finca holiday in Spain – called Finca Iris. If you are more of a glamping holiday type, please have a lookat La Jaima which is a huge four person glamping tent in Spain, with its own bathroom and kitchen facilities.
These B&B rooms are also very suitable for your active holidays like for example walking, cycling or climbing holidays on the Costa Blanca.