Bed and Breakfast Spain, The place to enjoy good food, idyllic villages and the beautiful countryside of the Costa Blanca.
Book this amazing place now.
Bed and breakfast Spain ´Los Establos´ is an ideal holiday destination for guests who are in need of sun and tranquility and who love originality and comfort. Staying at our Bed and Breakfast is a great way to enjoy the countryside of the Alicante province. No disturbing noises, just the sounds of nature. At Bed and Breakfast Spain this is still possible. Marnes is a "partida" of the village Lliber. Once farmers lived here and enjoyed a good living by growing olives, carob beans, almonds and grapes The wines from this region were known throughout Europe in that era. At the end of the Franco era the countryside of Alicante was almost deserted. Refugio Marnes guesthouse breaths new life into this Rural Homestead. We invite you to come and enjoy the sun, the nature and perhaps most of all – the overwhelming peace, in one of our delightful guest rooms.
Bed and Breakfast Spain ´Los Establos´, guest rooms in the fully restored stables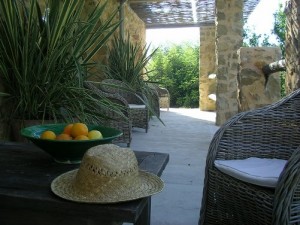 The old stables of the farm, its wineries and the corral were transformed into the stone building; Bed and Breakfast Spain ´Los Establos´, it offers 3 rooms each with its own bathroom. All rooms have their own entrance and open onto a large terrace with lovely views of a private valley and the mountains behind Refugio Marnes. Guests can also stay in a comfortable living / dining room and kitchen they share with the other guests of this rural bed and breakfast.
Rooms with a view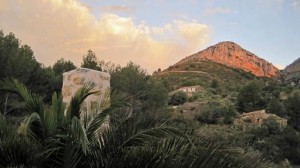 When we had the promotional flyers for Bed and Breakfast Spain ´Los Establos´ printed, Margriet Groen (who designed them) used the term "Rooms with a View". A simple description but one that does justice to what you will find here. Alicante is known for its clear blue skies. The mountains around this Bed and Breakfast are rocky and jagged, contrasting the blue sky. Like the stone walls of Los Establos. The "barranco" (valley) next to the building has various shades of green, the green of the pines, the gray-green of the olives and fresh and dark green of the carob and fig trees. Large contrasts in colour and material, illuminated by a bright sun. That is Spain, that is Alicante, that is Refugio Marnes!
Los Establos, a guesthouse that values privacy, peace and ample room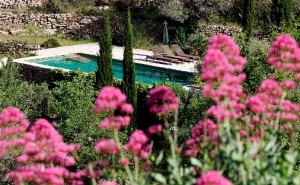 The finca or old farm covers 50 acres. These three dwellings are "scattered" on the land and can comfortably accommodate a total of 14 guests. So each guest has more than 3 acres of land at their disposal! The shaded terrace of the Bed and Breakfast Spain ´Los Establos´ offers access to other terraces, where every guest will enjoy their own private and quiet spot. In this sunny part of Spain you can read a book shaded by a "sombra" of bamboo stalks or fall asleep in a hammock under a carob tree. Or just enjoy the peace and nature around you, relaxing in a hammock chair. Although we are welcoming hosts, we do not allow "guests of guests" on our property, so you can be sure to find the rest you need.
Bed and Breakfast Spain ´Los Establos´, honest and delicious food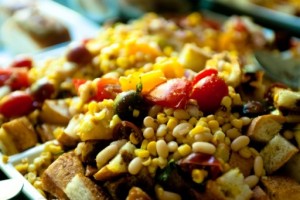 We serve a delicious breakfast for our B&B guests in the dining room, on the terrace or, if you wish, we serve you in your room. Furthermore, Richard is a gifted cook and a "mesa rural" (table d'hôte in French) is served three times a week. Alternatively, you can join us at our dinnertable and together we'll enjoy the delicious and honest food. With good wine, usually regional and of course good conversation!