Activity holidays Spain? So, what do you want to do?
On our website you will read that the Costa Blanca is an ideal environment for activity holidays in Spain. Whether it is a walking holiday, a cycling or climbing holiday, you can come here all year round. On this page you will find information about water sports such as sailing, stand up paddle, diving and snorkeling. Did you know that for the most spoilt golfers there are some very attractive golf courses of different calibre here? For horse lovers there are a number of well-equipped 'centros hipicos' (riding schools) where you can ride amongst Spanish nature.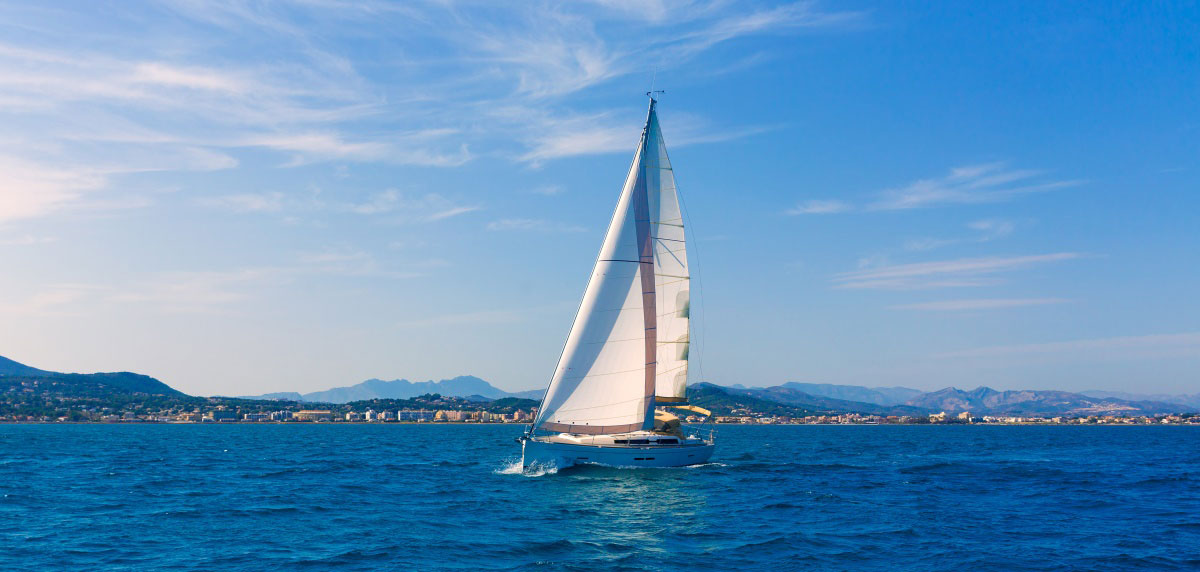 Water sports, go sailing from one of the many marinas
Activity holidays Spain: The coastal towns of Altea, Denia, Javea and Moraira and Calpe have their own marinas. In almost all of these ports you can rent a boat, with or without crew, for a wonderful day on the water. Catamarans for excursions on the water depart from Denia and Calpe, amongst others.
Here we mention a few ´Clubs Nauticos´ or marinas where you can rent a boat. We will start with Club Nautico Les Basetes. This marina has a sail and a diving school and a restaurant. It is listed as being in Benissa, but is physically closer to the town of Calpe. This harbour has 85 moorings up to 6 metres deep. A little further on, Club Nautico Calpe has 276 moorings and this harbor has capacity for four metres. You can rent boats here, take a short sailing course, rent stand up paddle boards, surf etc.
A little further south is Greenwich Marina which is a Club Nautico located beside the urbanisation of Mascarat. Here 542 boats can moor, and this harbour accommodates up to 5 metres of depth. Altea also has a beautiful marina, Club Nautico Altea, which can accommodate 366 boats. This harbour takes up to 2.5 metres depth and you can also rent water craft here. Finally, we mention Denia, where you will find Club Nautico Denia. This is a large marina with 602 moorings and a depth of 3 to 3.5 metres. Here you can take excursions on a catamaran and even sail to Ibiza and Mallorca.
Diving and snorkeling, discover the underwater world of the Costa Blanca
The Costa Blanca is an excellent environment for snorkeling and diving almost all year round. This is partly due to the micro climate mentioned several times on this website. There are gravel / rocky beaches and sandy beaches here. As a rule, the large sandy beaches are less suitable or interesting for snorkeling or diving than the 'pebble' beaches. The Mediterranean is known for being relatively quiet, and does not suffer from very strong currents. Although, of course, you should always be careful. Something to take into account while snorkeling and diving is that there are quite a few water sport activities underway.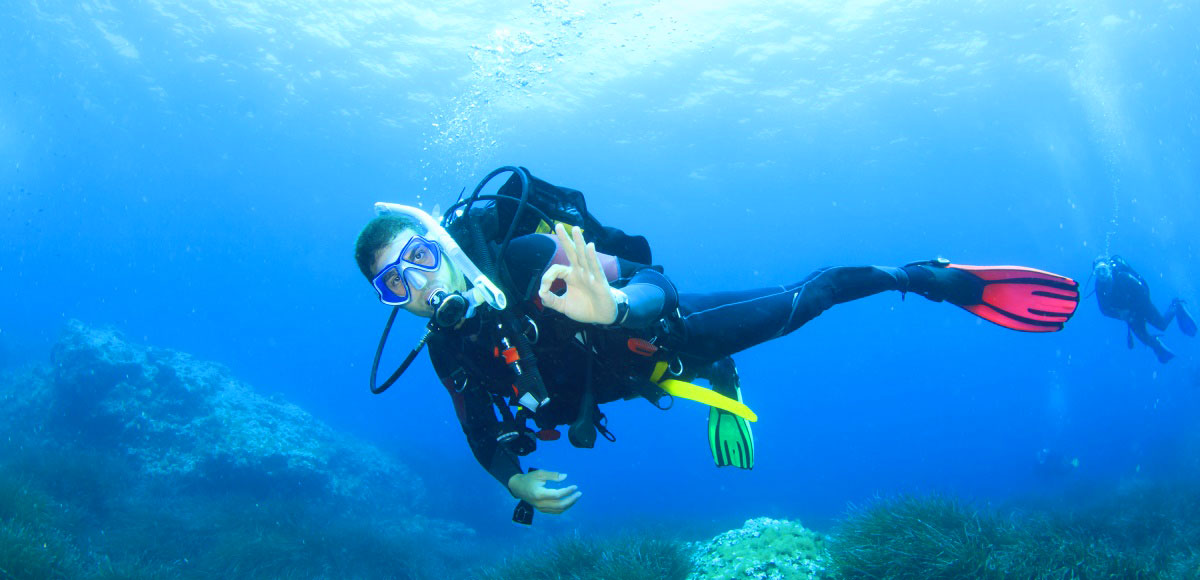 Underwater life is still rich in the heavily fished Mediterranean. In addition to sea fish such as bluefish, grouper, sea bass, rockfish and horse mackerel, you can also encounter rays. Furthermore, there are different types of tuna to see if you are lucky, and of course you can observe the bonito and the mackerel. More exotic are the seahorses, different kinds of lobsters, squids and moray eels. You can also see dolphins here, but that will only happen very rarely when snorkeling. When you see a dolphin in the Mediterranean, it is usually the striped dolphin. Most sightings of these marine mammals are made around the Cabo de San Antonio between the towns of Jávea and Dénia. Sometimes even sperm whales (whales) are spotted there.
Where can I snorkel and dive?
Playa el Moraig is a 'hip' beach northeast of Moraira, and in summer this is one of the places to be. This beach is known as a perfect diving and snorkeling environment. There are rock formations on the left and right of the beach. You can find caves that are very worth your while to enter while exploring with a snorkel. There is a lot of underwater fauna and flora to be seen here. If you're lucky you might even spot a ray or octopus swimming among the sea grass.
Between Moraira and Calpe there are a number of bays or 'calas' where you can snorkel. You can read more about these beaches on our website. And finally, we would like to mention the bays or calas in Javea where you can snorkel in beautiful seas. These are Cala La Barraca, Cala Portixol, Cala Ambolo and Cala Granadella. Apart from the sandy Arenal beach of Javea, the other bays are all surrounded by the beautiful high and jagged rocky coast. The sea quickly deepens in these bays, which gives snorkeling an adventurous dimension during your activity holidays spain. Are you
Diving, diving schools and diving equipment rental
You can find diving equipment, diving lessons and courses at the following addresses.
SUP, stand up paddle on the Mediterranean, sea, sun and action
Do you also love outdoor sports? Then SUP, or 'stand up paddling' is also a challenging sport for you. It not only keeps you fit, but also makes you very happy. Especially here on the Costa Blanca, because of the wonderful weather, you can practice SUP here all year round.
Stand Up Paddling is an outdoor activity on the water. You stand on a large surfboard and are constantly looking for balance. This makes it a sport where you really use all muscle groups. With one paddle in your hands you move on the water and finding balance, especially at sea, is quite a physical challenge.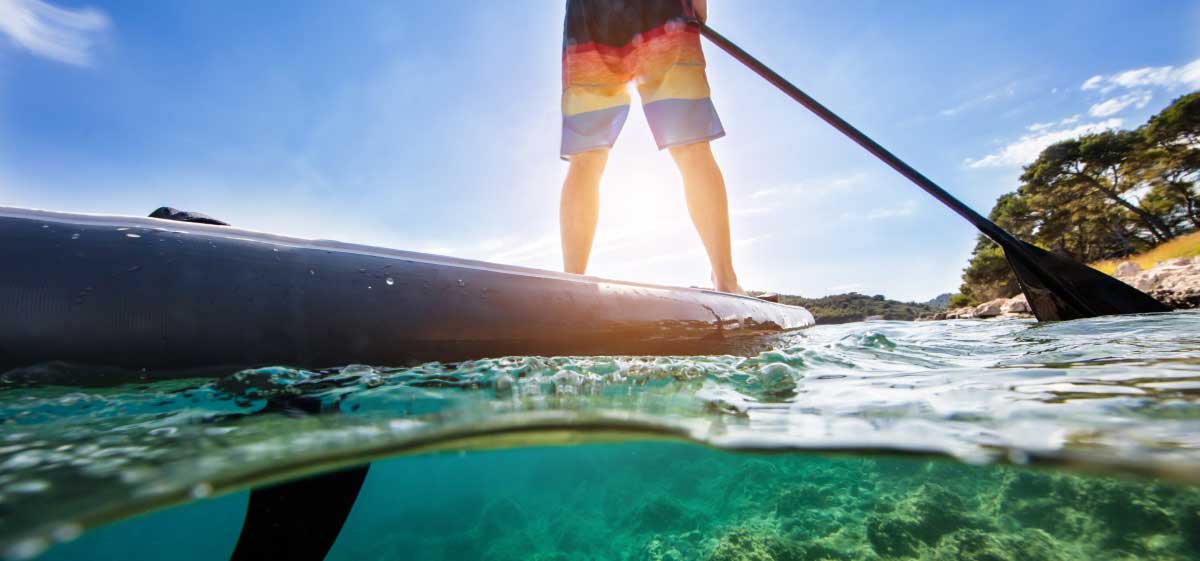 SUP is for people of all ages; it is fun for children up to and including older people. There are sup boards available for every purpose, all round SUP boards, touring and racing SUP boards, fitness boards and even yoga boards. In the latter categories, you do fitness or yoga exercises on your board. This adds an extra dimension to the exercises and especially the muscles around your 'core' benefit greatly from this.
Activity holidays Spain;The Mediterranean Sea is particularly suitable for practicing SUP because the waves are normally gentle. Supping at sea does require some extra precautions. For example, it is always wise to wear a life vest and an ankle cord that comes standard with every SUP board. For your ultimate SUP experience here in Spain you can rent a board if you are already familiar with surfing. You can also have fun on a beginner's course. Are you looking for water sports articles and products for outdoor sports to make your active vacation in Spain even more complete? Have a look at this page www.globosurfer.com
The golf sport, 'me time' during your holiday on the Costa Blanca
Play golf during your activity holidays Spain. Golf as a sport is a combination of physical and mental activity. You enjoy the outdoors, you exercise walking a lot and the sport improves your eye-hand coordination. Golf is also called 'a match against yourself', furthermore golf can make you mindful & zen, because the calmer you are, the better your playing. The golf courses are often beautifully laid out here on the Costa Blanca. So the beautiful scenery, the sea breeze and being active, make the perfect ingredients for a well spend day during your holidays!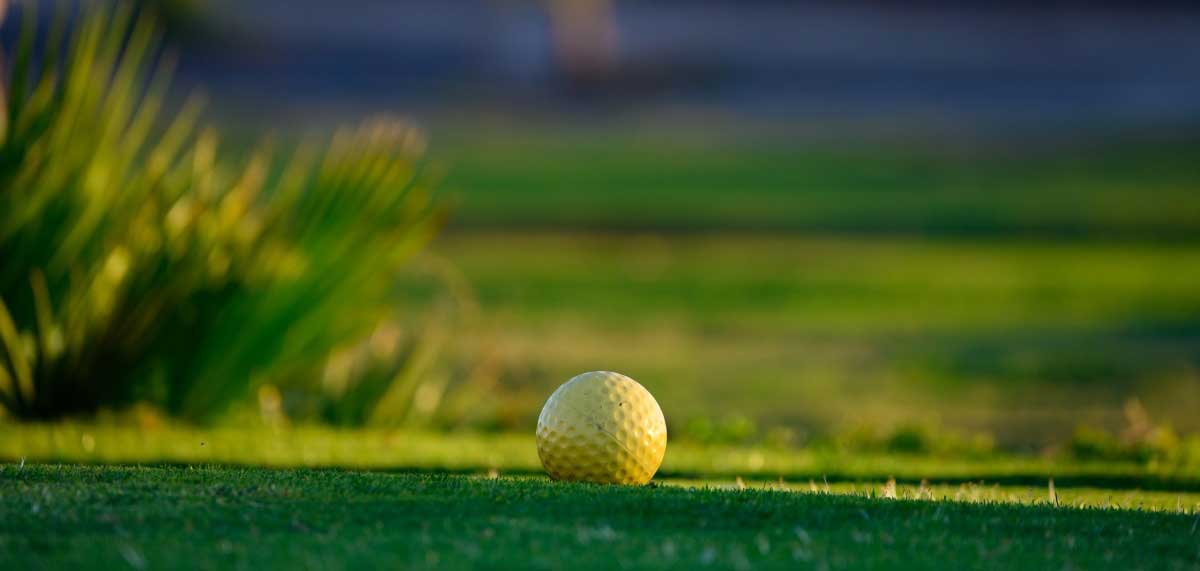 The nice thing about golf is that you can play with whom, when and for how long you want. You can play 9 holes, do 18 holes, or practice for an hour to improve your technique. During your holiday on the Costa Blanca you will always find time, to play some golf. Ofcourse golf is an individual sport, but you can still enjoy it together or even with a group.
Golf has different game forms, moreover, each course is completely different here, so Golf presents you plenty of variety. What most certainly is different compared playing golf at home are the palm trees, the smell of the Mediterranean pine trees and further tropical vegetation, so typical for this part of Spain. Golf is a sport that is suitable for all ages. We have guests here in their thirties with children, who are playing golf, up to persons 60+  that play golf for a day or several days during their holidays.
Four well-known and good golf courses on the Costa Blanca,
Here we have listed some of the golf courses on the Costa Blanca. If you want more inside information about the golf courses in our area, take a look at this great site about costa blanca golf courses. The first is Club de Golf Ifach, which is one of the oldest Golf Courses in the province of Alicante. It is a 9-hole course designed by Mr Javier Arana, one of the best designers in the world. The course is known for its scenic qualities and view. Secondly, we would like to mention Club de Golf Javea. This course was designed by Francisco Moreno and opened in 1981. The course is a gentle 9-hole slope with well-kept greens and fairways flanked by palm, pine and orange trees. Although the course has only 9 holes, this course is experienced as an 18-hole course due to its variation.
The next course is the Altea Golf Club This course is hidden in the foothills of the Sierra de Bernia near Altea la Vella. It is one of the oldest courses but they have been modernising the club constantly trough the years.  Besides a restaurant, there is also a gym. The Altea Golf club, is one of the few clubs owned by the members. It is an 18 hole / 72 par course and visitors are welcome. The last course we mention here is La Sella Club de Golf. It is a beautifully situated, spacious 18-hole course in Denia. The course has both narrow and wide fairways with water features and ditches. The organisation is generally experienced as good and there is a good restaurant and even a spa!
Horse riding, fancy a nice outdoor ride in Spain?
Spain is of course known for its beautiful horses and horse breeds. Horse riding is – once here – a must for enthusiasts. And whether you want to ride along the beaches or in the mountains. Whether you are a beginner or a 'pro', there is plenty of choice in our area.

Spanish horses are noble and beautiful horses, some information about PRE
Many horses in Spain are PRE, Pura Raza Española (Pure Spanish Breed). The origin of the breed is between the years 1000 and 800 BC. The Andalusians, or Spanish horses, originated around the 16th century from a breeding programme by King Philipe II in Córdoba. His goal was to breed a noble, reliable, beautiful user-friendly horse with a lot of talent for schooling. Many horse breeds have the PRE as their ancestor. Despite centuries of history, with wars, diseases and the disappearance of the horse as a working animal, it has remained a pure breed with around 170,000 horses worldwide.
This noble breed is characterised by 'Rubensian' or Baroque shapes, often with a long and silky mane and tail. Due to the relatively short physique, these horses are generally easy to 'collect'. They have beautiful and noble heads and relatively small hooves. Therefore, they are well suited for their environment of narrow mountain paths and semi-paved or paved roads.
They are a noble horse, yet relatively cool-headed and very versatile. They have been used and are still used during bullfighting, cattle driving, and for cart driving. PREs are still bred and used for these diverse tasks. A PRE is also very suitable as a recreational horse. And so, we are back to the topic, nice recreational horse riding here on the Costa Blanca.
Horse riding in Spanish nature, here are some riding schools with good references
It is of course not guaranteed that when you sign up for an outdoor ride, that it will be on such a beautiful PRE horse, but it is very likely. It is important to know that it is more accepted and customary here in Spain to use coercive means such as side reins, hard bits etc. Horse riding here in Spain is different from in the UK. The ground is rocky and hard, the province of Alicante is very mountainous etc, etc. But the horses are used to these conditions and with their hard hooves and legs, they are in their element.
We have listed four club hipicos for you here. Club Hipico Benissa, they organise outings around the Peña de Oltá (Calpe), Partida de Lleus in Benissa, Llíber, Jalón, Gata, and Parcent. You need to book ahead for a ride or lesson. Some skill is required here, so that horse and rider are safe on the road. We also want to mention Rancho La Ofra in Callosa d'en Sarrià, this is a riding school under German leadership. Club Hipico Javea is located just outside of Javea. Here you can take rides around the Montgó mountain and towards Jesús Pobre and Denia. A few of those routes run between the orange trees, it is a beautiful area and relatively flat.