It is winter, it´s 22 degrees, the sun is shining and you are on holiday. Isn't that an attractive scenario for walking holidays in Spain?
Walking holidays, Spain: Spain´s Costa Blanca is of course best known for its beaches. A lesser known fact is that the inland Costa Blanca is a true paradise for hiking and walking holidays. One of the best regions for this is the "Marina Alta" where your walking holiday accommodation Refugio Marnes is located. Various mountain ranges, one of the best climates in Europe, innumerable hiking trails, good hiking guides and perfect accessibility. This makes the Costa Blanca a dream of a hiking holiday destination!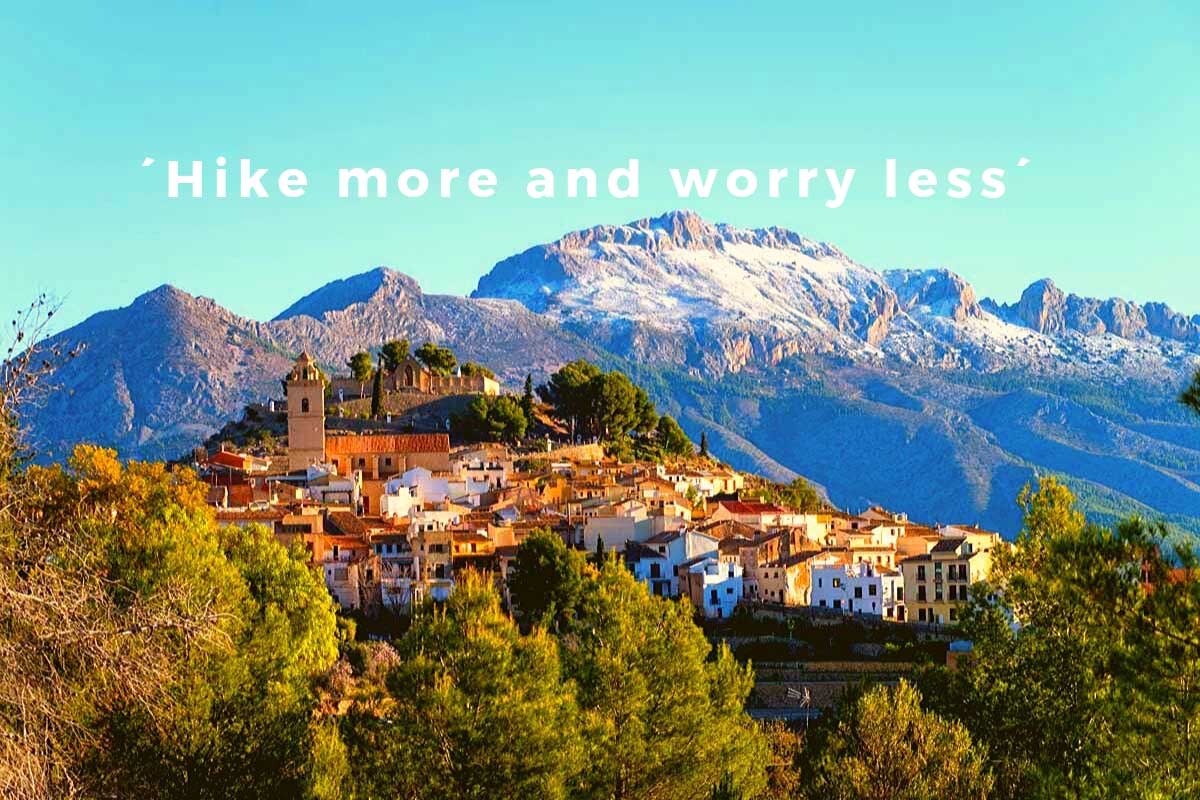 So, are you thinking of a walking holiday in Spain? Read the five reasons why you should choose the Costa Blanca for your next walking holiday.
Reason 1: Within just 2.5 hours, you could be at your walking destination in Spain, and in a totally different and sunny world.
'La Comunidad Valenciana' is perfectly accessible, has a very good infrastructure and plenty of choices when it comes to car rental. The main airports of Alicante and Valencia are easy to reach from the UK and the rest of the world. There are frequent flights from London, Liverpool, Manchester, Bristol, Edinburgh, Glasgow and Cardiff.
If you don't wish to fly you can always reach Refugio Marnes by train or inter-European bus routes. There are also airport buses between Alicante or Valencia airports to Benissa, our nearest stop. Another option to reach your walking holidays destination on the Costa Blanca is of course driving.
Reason 2: Walking in the provinces of Alicante and Valencia is recreation in an unprecedented mild and unique microclimate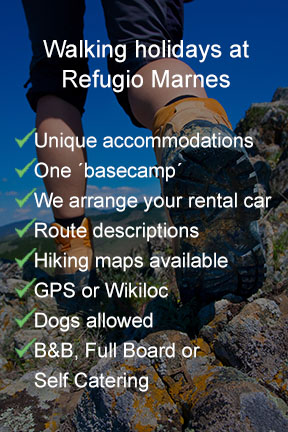 The 'World Health Organisation' has given our environment the label 'Europe's healthiest climate'. An average of 17 degrees in January is comfortable and in winter day temperatures can rise to 22 degrees. The Spanish winter only lasts around 3 months and spring starts with the flowering of the almond trees in February. From the end of September until the beginning of June we welcome many guests here at Refugio Marnes. Our visitors come here to appreciate these exceptional weather conditions during their individual or group walking holidays.
Franco, in his time, realized that this part of Spain has an ideal holiday climate. In the 1960's, he began to develop mass tourism around Benidorm, now pretty much the epicenter of this microclimate. The mountains at the back of the province of Alicante ensure that the cold air of higher ground does not penetrate into our region. A gulf stream from the Mediterranean Sea guarantees that the sky is mostly cloudless. An other factor is the triangle between Valencia and Alicante that extends far into the Mediterranean Sea. This makes the sea act as a hot water bottle in winter, and as a cooling element in summer.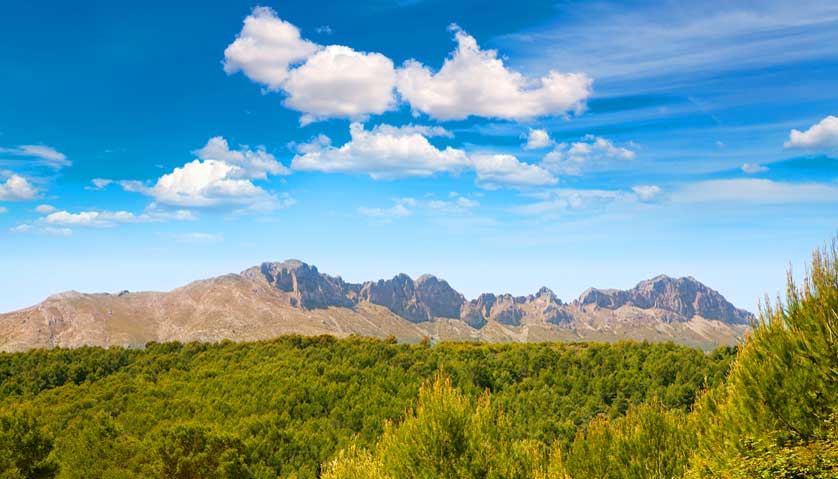 Reason 3: The Costa Blanca and the province of Alicante have a unique landscape
Few people know that the province of Alicante is the second most mountainous province of Spain. The mountains are not high, nevertheless there are many in this rugged landscape. There are several protected areas such as the Sierra de Mariola, Font Roja and the Marjal in Pego-Oliva. On the other hand we have, the Peñón de Ifach, Sierra Helada, Montgó and the lagoon of La Mata/Torrevieja. Last but not least, and ideal for walking holidays, is literally on our doorstep – the Sierra de Bernia.
Because of this mountainous landscape, hikes between valleys and mountains sometimes have to scale more than 1,000 metres of height difference. These hiking routes include  the mountain range Aitana  (1,550 metres) and the Puig Campana (1,436 metres), both on the same route. But don't worry, it can also be much easier.  These are just a few Costa Blanca´s  natural parks, which provide the region with unique and varied landscapes. There are oddities which surprise our guests time and again, such as an enormous archaeological legacy, with cave paintings and Iberian and Roman archaeological remains.
One of the things that is perhaps most striking, is the cultural landscape of dry-stone walls which surround the agricultural terraces and have been declared cultural heritage. These walls, which sometimes extend to just below the mountain tops, form the bancales (terraces) on which olives, almonds, carob trees as well as grapes and grain were grown. The walls for example on the 20-hectare property of Refugio Marnes were built according to tradition and are up to 2,800 years old! And the water cisterns that are scattered here and there in this cultural landscape have ingenious underground water collection systems.
Reason 4: "La Comunidad Valenciana" (or Valencia as the rest of Europe often calls this community within Spain) has endless hiking trails and beautiful routes
If you are planning your walking holiday in Spain, you have an extravagant problem: which hike are you going to choose? There are a large amount of routes, nature reserves and places to explore while walking. You can start your walk immediately on the doorstep of our luxury hiking accommodation. You can take long walks in all directions, and keep that up for 5 days without following the same route. Guests who have been here up to 7 times would always find new places and hiking trails, and are still exploring our valley after their previous visits.
But if you are looking nearby for greater challenges then the Sierra de Bernia is ideal for you. And If you are willing to take the car,  there are the Olta, Col de Rates, El Caballo Verde etc etc. Many of the hiking trails are well marked, but for the explorers among us there are also walks for pioneers. Are you really into a challenge, like for example "bouldering", then it's best to have a guide arranged by us. You can also participate in one of the organised hikes here in the area.
Reason 5: The Costa Blanca has a unique countryside. Celebrate your walking holidays in the surroundings of a unique Flora and Fauna.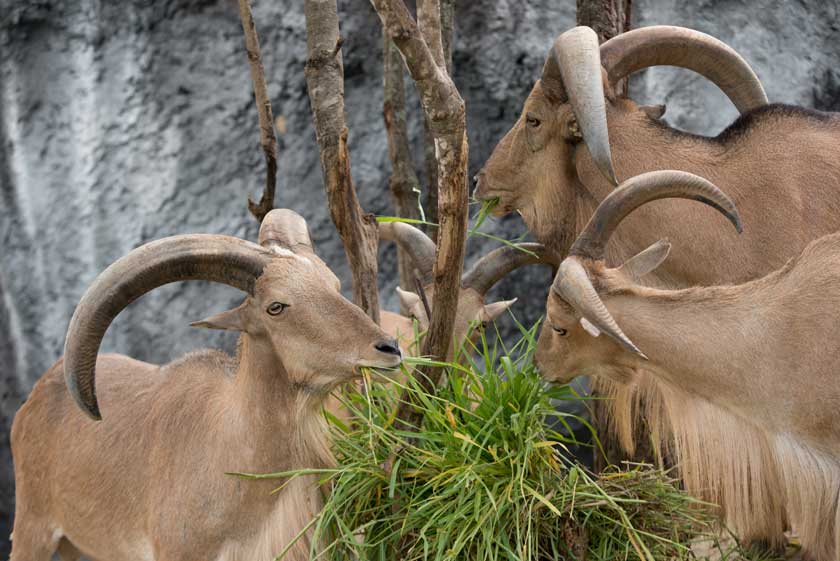 The wonderful micro climate and an average of 320 days of sunshine per year will enchant you with colours and scents. There are beautiful flowers and fruit blossoms on the Costa Blanca and Marina Alta. Orchids, rosemary, thyme, wild tulips, daffodils, orchids, irises, almonds, olives, lemons and grapes, to name a few. A huge range of singing birds and birds of prey never lets you put your binoculars away. We do not see large game such as deer on the Costa Blanca.
There are, however, wild boar and Barbary sheep. For those who don't know the latter, a Barbary sheep is a kind of large wild goat with beautifully turned horns and a warm brown coloured fur. There are also predators such as foxes, martens and genets. In addition, you can occasionally encounter a herd of less exotic animals. These are usually mixed herds of sheep and goats that cross the area with the shepherd and his dogs.
Agriturismo Refugio Marnes the base camp for your walking holidays in Spain
Refugio Marnes is an Agritourism in Spain, Agriturismo is best known in Italy, in Spain these rural holiday destinations are called Casas Rurales. Refugio Marnes is a sustainable Casa Rural. Here you can stay in a self-sufficient manner at 3 locations. The La Ruina cottage (up to 4 people), the Finca Iris offers Finca holidays (up to 8 people) and La Jaima our Glamping tent (up to 4 people and from April to October). Another option is to stay at Refugio Marnes on a B&B or full board basis in the B&B rooms of Los Establos or in the B&B rooms of La Finca. Richard Steenblik and Willem Pieffers are your English-speaking hosts and are happy to guide you during your unforgettable walking holiday in Spain. Except for your walking holidays, you can also celebrate your cycling holiday, climbing holidays or bird watching holidays with us.
Book a walking package directly