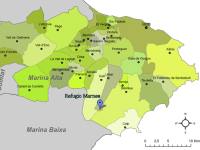 Of course the Costa Blanca is very well known for its beaches and party-life, especially cities like Benidorm, Calpe and Alicante. Much less known is that the countryside of the Costa is a paradise for Walking holidays Costa Blanca , climbers and mountainbiking. One of the best places in this area is the Marina Alta, where Refugio Marnes is located. Several mountain ranges cross the area, the highest reaching 4500 ft. Combine this with one of the finest climates in Europe, many trails and a couple of good walking-clubs and guides. That's why we call Refugio Marnes "your rural holiday haven".
Walking holidays Costa Blanca: Walking, hiking and trekking.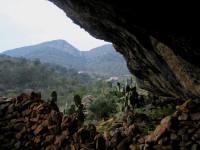 You can start your walk right out of our accommodation, you can even hike all day without leaving the 50 acre estate. Some of our guests are still exploring our valley after several visits. If you need more of a challenge: the Sierra de Bernia is right at your doorstep. Details for the some of the trails are available at our accommodation. Some trails are well marked and easy to follow. To really enjoy the more challenging trails, it's best to either let us provide you with a local guide, or to join in on one of the organised walking-tours.
Walking holidays Costa Blanca: Thrill-seeker or a nature loving person?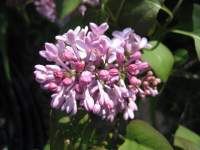 Due to it's fine micro-climate (with average temperatures ranging from 25ºC in summer to 18ºC in winter and an average of 320 sunny days per year) you will be enchanted by the colors and scents of the beautiful flowers and fruits of Marina Alta. Orchids, rosemary, wild tulips, broom, almonds, olives, oranges and grapes, to name a few. Over 80 species of birds, wild boar, foxes and, somewhat less exotic, sheep, goat and ass in our own valley, share this pleasure with you.
Whether you like thrills better than flowers and birds, or the other way round, you will have a great time!
More information on Walking holidays Costa Blanca
Websites with great information about walks in Marina Alta are:
Or visit the website ValenciaBirding. They offer Guided bird watching trips with professional local guide. Visit the best sites of the Valencia region. No group too small. All abilities happily catered for!