Your r
ural holiday

 haven on the Costa Blanca
Peace, spaciousness and original holiday accommodations for perfect 
rural holiday

 in Spain

Ecolodge, Guesthouse, B&B, Camping ore glamping? Refugio Marnes is difficult to catch in one phrase. Would you like to share this wonderful place with us, for a peaceful holiday?
On your turismo rural in Spain on this estate you will find the trees so typical for this area: carob, olive and almond. Three buildings are located on the finca: the old farmhouse where the owners live, the B&B wing Los Establos, the main house ´La Finca´with another three b&b rooms,  a cottage called La Ruina and a realy very special Ibiza style holiday home Finca Iris.  In addition, beautifully hidden in the countryside, the luxurious tent La Jaima, that defines the new term glamping, meaning glamourous camping.
Bed and Breakfast Los Establos housed in the completely renovated stables, has three lovely rooms with a shared spacious living / dining room. The luxuriously decorated tent La Jaima, a huge and beautifully designed Bedouin tent. And the holiday cottage La Ruina is a restored sheepfold designed for a terrific and comfortable stay. For more information about these different but highly original accommodations please visit the corresponding pages on this site.

Make a booking now.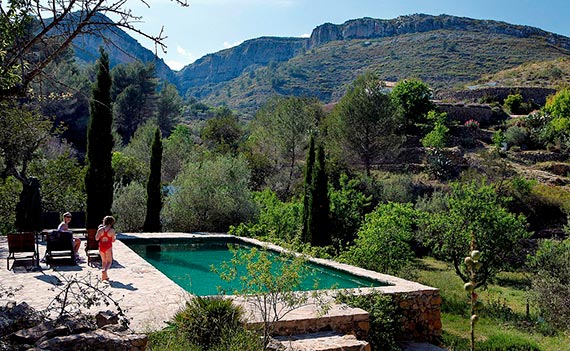 Area of Refugio Marnes
Arriving at Eco Lodge Refugio Marnes in Alicante, Spain, means going back in time, back to the basics of life. Sun, peace, wild nature and the ancient history of the hard Spanish farmlife. Refugio Marnes consists of a centuries old rural finca (estate) spanning 50 acres of agricultural land, situated in a our own private valley.
The finca is named after the hamlet of Marnes, at about 500 meters altitude on a small mountain, the Sierra de Bernia in the hinterland of the Costa Blanca. We focus on offering rural holidays in Spain / ecotourism / sustainable tourism in a form that is unique in terms of location and design.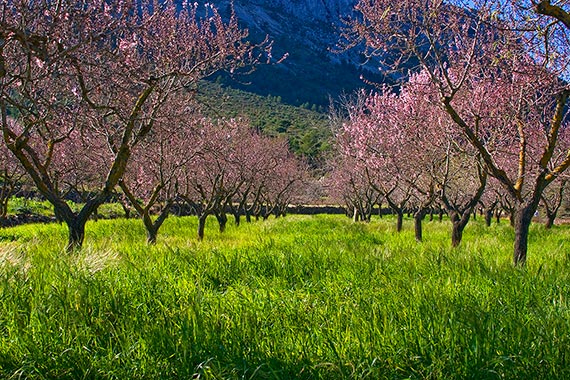 Focus on sustainability
In the operation of this beautiful finca (rural tourism and agriculture) environmental sustainability has top priority. For example: the electricity is entirely generated by a large solar installation. During your stay you are free to use the lovely pool of Refugio Marnes. This emerald green tiled pool has been desgined to fit in with its Mediterranean setting. The water of the (11x 4.5 meters) swimming pool is ready to be recycled in winter (after treatment). Again, attention is given to the responsible use of an increasingly scarce good: water. Through the menu choice Sustainable tourism you can find out more about our views on sustainable tourism.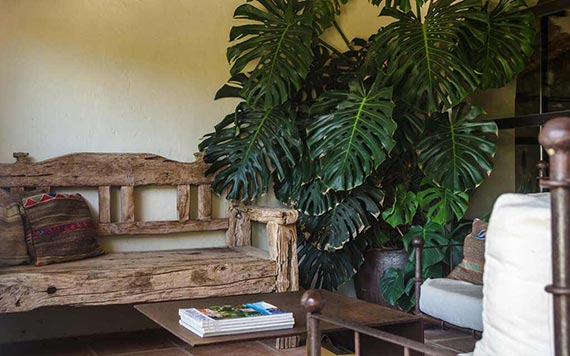 Ecolodge Refugio Marnes, for your rural holidays in Spain, enjoying nature in comfort with a clear conscience