Spanish rural holidays in the countryside of the Costa Blanca
Welcome to our Agritourism in Spain, located in the tranquil countryside in the province of Alicante.  Refugio Marnes is nestled in the foothills of the Bernia mountains.
It can be found in the Northern Costa Blanca and is a great destination for your rural Spanish holidays. Our special place has been welcoming its guests for more than 20 years.
You can stay at our Agriturismo in very different but all authentic holiday accommodations. Such as six lovely B&B rooms, 3 holiday homes in nearby situated old Finca´s, each with their own private pool. And last but not least, in a large Moroccan Glamping tent!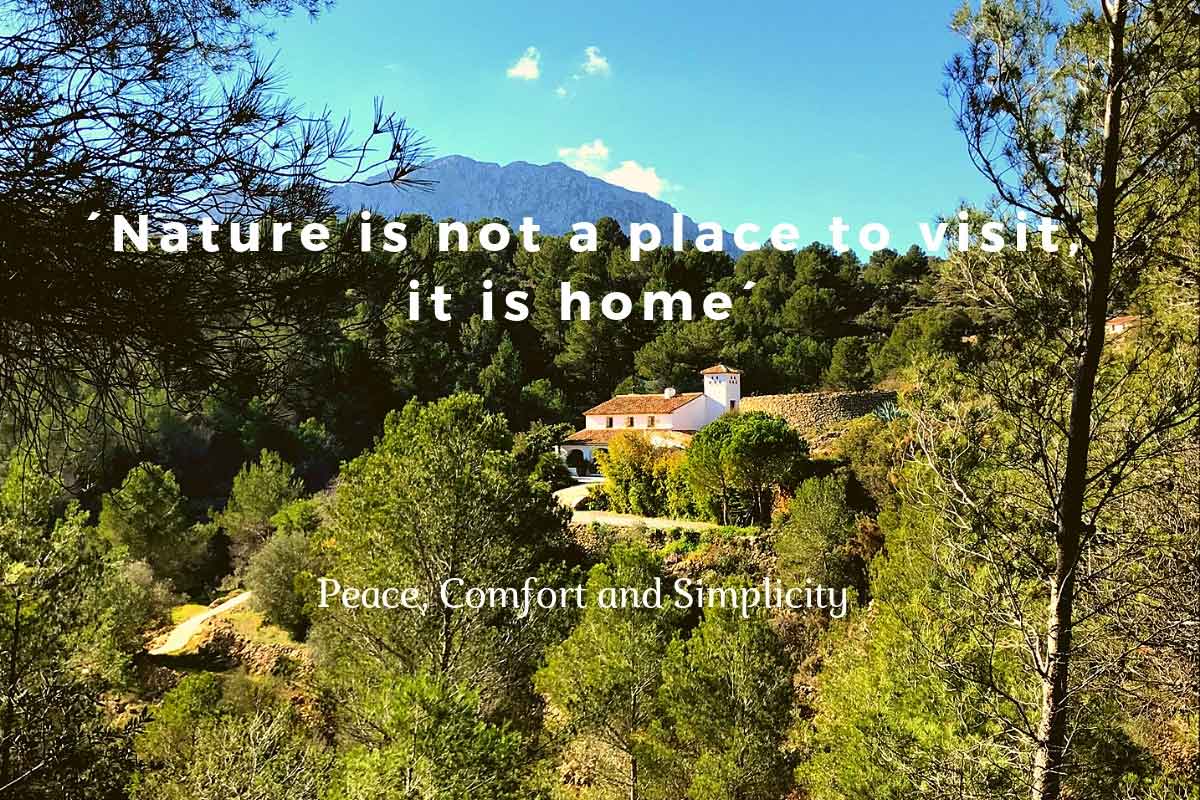 Looking for a peaceful holiday destination in rural Spain?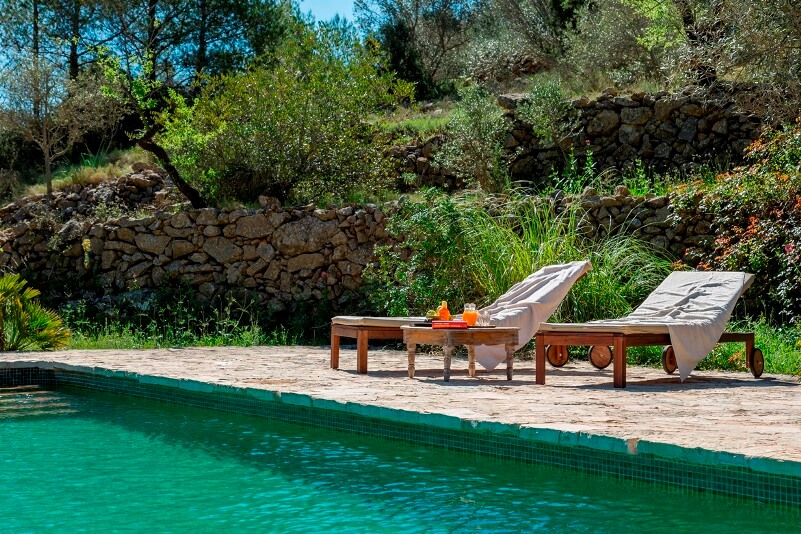 YOU MUST READ ON
Firstly, there are three old buildings on our 20-hectare estate. The old farmhouse called La Finca, where there are three beautifully appointed rooms offering a full B&B service. Also, located in the former stables´Los Establos´, there are three more lovely B&B rooms all with en suite facilities
Also, nestled in the valley, in a secluded spot is the luxury glamping tent La Jaima. La Jaima is also suitable for four people.
During your stay you can freely use the wonderful swimming pool. This emerald green tiled pool has been designed in such a way that it blends in to the Mediterranean countryside.
Found on the outskirts of the Refugio Marnes estate is the detached holiday home Finca Iris. This is a private finca which can accommodate up to eight people with its own private swimming pool. Last but not least you can stay with up to 10 persons in a rustic holiday home with a big private pool Casa Grillo. The latter is located just outside of the property of Refugio Marnes.
You can discover much more about these unique properties that are waiting for you here in our mountainside haven, You only have to continue your journey through our web pages.
Book this Casa Rural in Spain now.
Holidays in an authentic Agritourism in Spain , take a virtual flight
Experience a farm stay on the Costa Blanca?
Yes, on our estate it is a reality! The province of Alicante and the Costa Blanca are not traditionally associated with rural tourism. However, our Agritourism Spain is located in the rural area tucked in behind the coastline of  the Northern Costa Blanca. A large rural area is situated just three kilometers as the crow flies from the coast. Thus enabling us to enjoy the best of both worlds. We therefore have on our doorstep the beautiful beaches and coves, the hustle and bustle of the coastal towns. And on the other hand the peace and tranquility of the countryside of the provinces of Alicante and Valencia.
Refugio Marnes it is approximately 20 minutes by car from the coastal road running from Benissa to Calpe (the N332). Alicante is approximately 55 minutes by car. Visitors MUST visit the typical Spanish towns on the coast such as Altea, Javea and Denia
Spain´s third largest city, Valencia, is just over an hour away heading in a northerly direction. Valencia is certainly worth a visit,  it is full of culture and tradition. Valencia is hosting famous events like the world renowned ¨Fallas¨ and the City of Arts and Sciences modelled on the Sydney Opera house. And further it hast the expansive dune beaches to name but a few.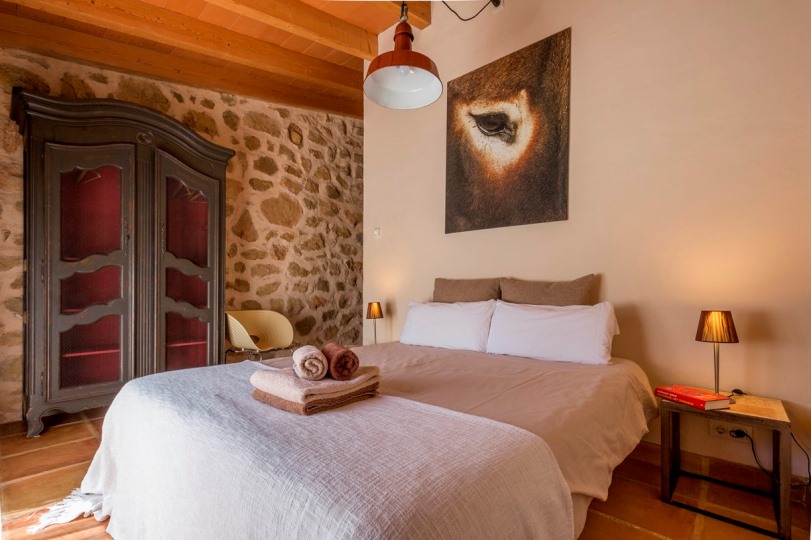 Beaches and rural sites in the Alicante province
The nearest beaches to our Agritourism Spain are no more than 30 minutes away by car. You can experience the expansive sandy beaches of Javea or Calpe. You also can find yourself a quiet spot in one of the many cove beaches tucked away along the coastline. All our beaches have been awarded with the BLUE FLAG, a certification for being environmentally friendly and clean.
The "Sierra de Bernia" mountain range which continues inland for some 20 km sits next to Refugio Marnes. This area is providing magnificent walks and mapped out trekking all within walking distance.
Our Agritourism Spain has escaped the onslaught of mass tourism helped by the fact that Refugio Marnes is situated in an a largely protected area. Click here for the exact location on Google Maps.
A stone's throw away is the picturesque Jalon Valley with its charming villages, expansive vineyards, typical restaurants, markets and beautiful mountain scenery. More information about the interior can be found at the Oficina de Turismo in Jalon.
Agritourism Spain has the ideal climate for an active hiking or climbing holiday
The Costa Blanca is known for its beaches and coastline, however, because of its very special microclimate. This makes this environment also excellent for an active holiday. Around our Agritourism you have lots of planned routes for hikes which provide the opportunity for your walking holidays You don't have to use a car for many of the walks as you can start many directly from Refugio Marnes. If you are happy to take the car, then you will have the opportunity to experience endless hiking possibilities. And as we may ad, in some of the most beautiful countrysides in the whole of Spain. The best months for walking holidays on the Costa Blanca are September to the end of June.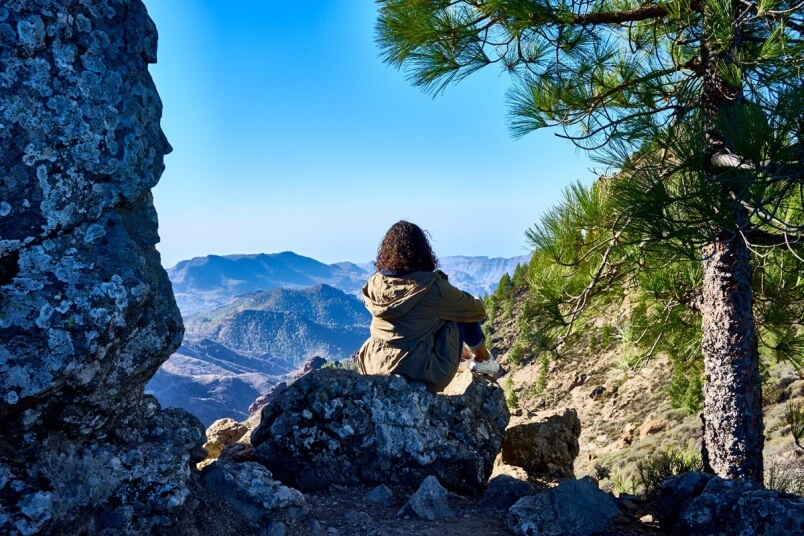 According to the climbing fraternity, the Costa Blanca is a climbing Mecca. Many easily accessible rock faces all with well-kept crags can be found in the area. This ensures that climbers with varying degrees of ability can come time and time again to enjoy the challenge. Of course, the weather is also a big plus for climbing holidays. Ass our area enjoys a climate that is normally sunny and dry when Northern Europe is experiencing its regular rainfall
Or would you rather take your road bike ore mountain bike?
For cyclists and mountain bikers, the Costa Blanca with its winding roads and mountain terrain is a true paradise for your cicling holidays Training camps for professional cycling teams are to be found here throughout the winter. Due to the fact that the area has the most amazing opportunities for them to practice and prepare for racing. This however means that the area also provides the amateur cyclists the conditions to enjoy the sport they love.
If you want to rent a racing bike or mountain bike, or why not both, we can arrange that for you against competitive prices. Of course you can also bring your own bicycle to Spain, but please make sure you check with your airline.
At wikiloc.com  you can find a lot more information about the best routes to enjoy cycling, mountain biking and walking.
Agritourism Spain, an ECO, ENVIROMENTALY FRIENDLY & CHIC holiday destination
At Refugio Marnes we are passionate about the environment. So we promote sustainable tourism it is our desire to protect this beautiful part of the countryside where we live.
To give you some examples:
we generate our electricity entirely through our own large solar installation.  We are utilizing the power of the sun which is with us for some 325 days per year.
without our guests noticing, we are focused on purifying and reusing water with the prevention of waste.
we prevent the use of plastic as much as possible and recycle whenever we can.
we continue with this work on a daily basis in order to protect the planet and our own estate.
Refugio Marnes enjoy nature responsibly but comfortably!