La Jaima a Glamping tent in the Valencian community
Your unforgettable Glamping holiday on the Costa Blanca begins and ends in this fully furnished tent. The huge four person tent is unique, there is literally only one of them. This handmade glamping tent is part of sustainable holiday destination Agriturismo Refugio Marnes in the Valencia region. Glamping 'La Jaima' can compete with Luxury Campsites in Spain. Our glamping site welcomes you in luxury and peacefulness, please come on in!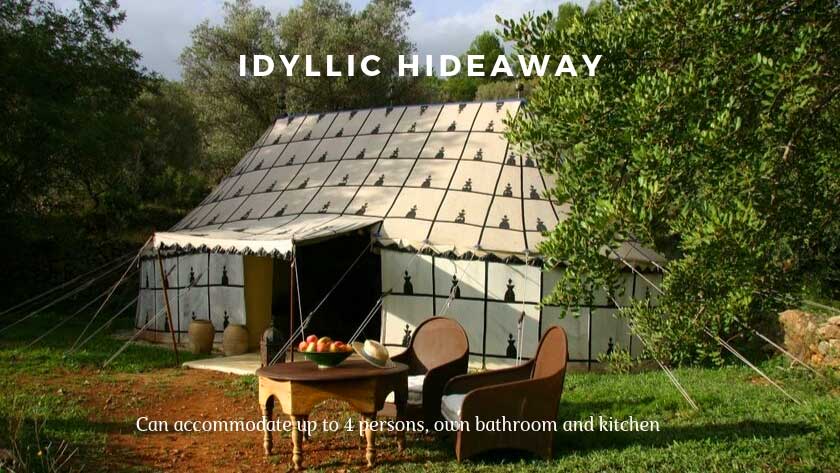 In Glamping tent Valencia 'La Jaima' you can book your holiday every year between 15 April and 30 October. It is a genuine Bedouin tent which is luxuriously furnished for a comfortable and original holiday that you will never forget. The large glamping tent is 10 × 5 metres and the roof pitch is no less than 5 metres high. This height makes the tent a great place to stay in the summer. It is because of its height that the tent stays reasonably cool also when temperatures rise.
This glamping is, an hours drive from the Valencia and Alicante airport. It is built on a stone floor, and has its own bathroom and kitchen. Of course, you also have hot and cold running water, a bath with shower over, a fridge and cooking facilities. For the warmer days, a beautiful industrial sized fan provides a pleasant breeze.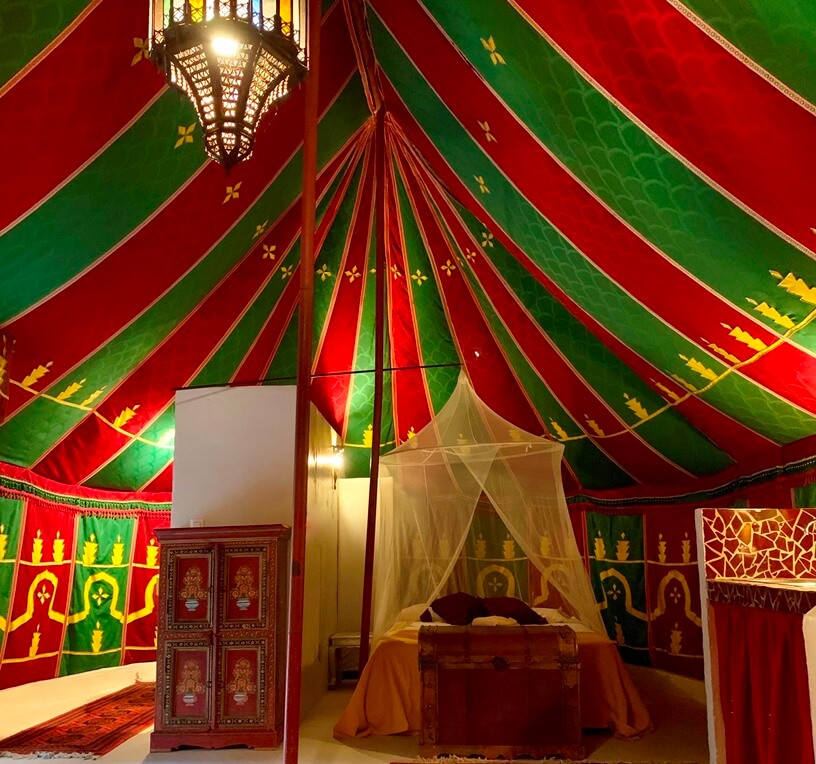 It is therefore an ideal glamping accommodation in Spain for four people. For once, you don´t have to stumble over the neighbours' guy ropes. Enjoy a spacious tent with lots of privacy and 20 hectares of land where you can stroll around. Enjoy undisturbed peace and quiet, and get out of bed and jump straight into the swimming pool next door in the morning.
Book this glamping tent now
Watch the video with drone images of our Glamping tent here
The luxuriously furnished tent La Jaima gives new meaning to the word Glamping
The word Glamping is an American invention. It is a contraction of "Glamourous Camping" or luxury camping. Luxury camping, for example, can not only be enjoyed in airstream caravans and motorhomes, but also in juries, teepees, etc. With their Glamping in Valencia, Refugio Marnes not only privides this phenomenon,  but also connects you to the Moorish culture of Spain and the province of Alicante and Valencia.
A Bedouin tent in Spain is not so strange when you consider that this part of Spain has been Arab territory for over 1000 years. The Arabic influence can still be found today in the Spanish language and, for example, in place names. It is said that the Spanish "Olé" comes from the Arabic "Allah" and did you know that "beni" from for example "Benidorm" means "son of"? In Cádiz you can enjoy a beer in the same kind of 'Jaima' that is furnished as a beach tent with a view of Tangier. You will also find these kinds of tents in the interior of the Costa Blanca, for example on the roof of old Arab buildings.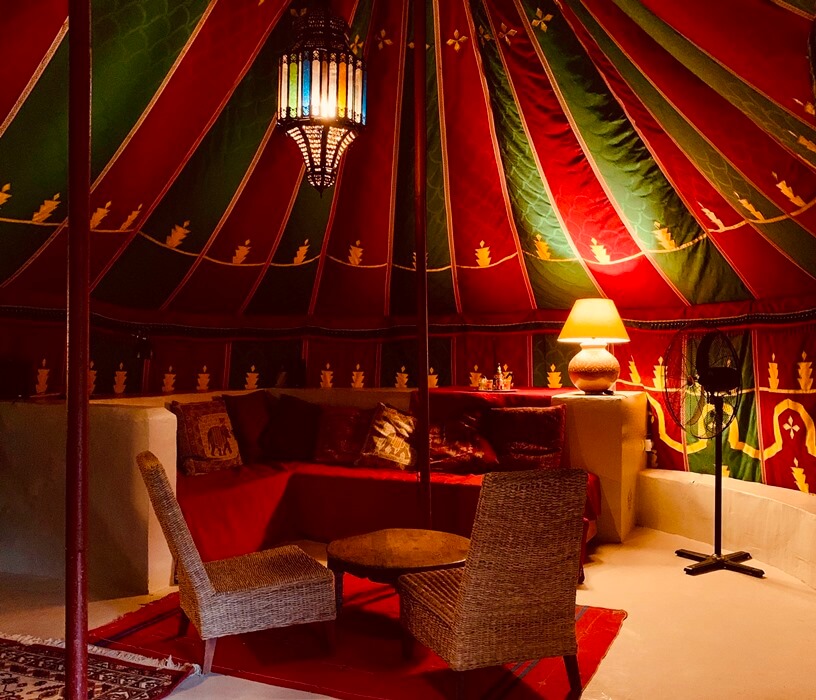 A glamping tent especially made for your glamping holidays an hour from Valencia
This tent was commissioned for us by a tent maker from Casablanca. He also made luxury tents for the lodges of King Mohammed VI of Morocco.
The tent is made of a fire-resistant PVC outer layer, which we exported from Germany to Morocco. Furthermore, it is a traditionally made tent with the typical colours inside – yellow, green and red. Those colours have a special meaning within the Muslim faith.
Glamping tent Valencia; Because the walls are removable, our guests do not have to worry that the temperature will rise too high. We have also provided an extra air chamber between the different layers of fabric to keep the heat out.
Normally tents outside have a toilet building and shower facilities. Glamping tent Valencia La Jaima has it all on board. That means that our guests do not have to share anything with other guests staying at Agriturismo Refugio Marnes. Your dog or dogs, if properly behaved, can also come and stay. Contact us if you want to know more about taking your dog with you.
Glampings in the Valencia and Alicante area, an ideal climate for Glamping.
The Costa Blanca (Spanish for white coast) lies in the southeast of Spain between the villages of Denia and Pilar de la Horadada. It has 244 kilometers of coast with as many as 74 beaches. The coast is also called white because of the exuberant almond bloom in January and February. The temperature is on average 18 degrees, not too hot in the summer, very rarely the temperature rises above 35 degrees. Winters are also generally very mild, that makes this location an ideal environment for your active holiday in spring and autumn. Think of your walking, cycling or climbing holiday.
In addition to the beaches and bays, there are also coastal mountains and a hilly inland which makes for a worthwhile stay because of its beauty. Refugio Marnes and therefore also the Glamping tent La Jaima are slightly off the coast near the Jalon valley. The Jalon valley and surrounding area are still very rural and delicious wine is grown. Almond cultivation and processing is also an important source of income. The Cities Valencia and Alicante are very nice day trip during your glamping hoidays in Spain.
If you want to know more about our surroundings, read more about the Costa Blanca here and at the tourist information of Vall de Pop where Refugio Marnes is located you can read more about our beautiful surroundings.
As being a Casa Rural have several options to stay with us.  Would you rather have a B&B room look at our page about bed and breakfast Alicante Los Establos and bed and breakfast  Costa Blanca ´La Finca. Would you prefer a cosy Cottage for your cottage holidays in Spain? Then we have the private holiday Cottage La Ruina. If you have a larger family, we have Finca Iris that hosts up to 8 persons during your Finca Holidays in Spain. Finca Iris is a beautiful house with its own private swimming pool in the middle of a nature reserve.