Luxury tent La Jaima the ultimate glamping experience
Book this amazing place now.
Glamping tent Spain; Guesthouse Refugio Marnes is not a camping site, is it? At Refugio Marnes you stay in a real "Jaima": a luxurious Bedouin tent, stylishly equipped for a comfortable and original holiday you'll never forget. The tent (10×5 meters) is set on a stone platform and equipped with bathroom and kitchen. It is an ideal holiday accommodation for 4 persons. No more tripping over the guy-ropes of your neighbors but a spacious place with lots of privacy and 50 acres of land for you to explore. Enjoy the quiet and jump right out of your bed in the pool. Indeed, Refugio Marnes is a kind of campsite, but for just one tent!
The luxuriously furnished tent La Jaima gives new meaning to the word Glamping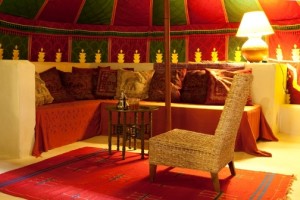 The word Glamping is a relatively new invention. It is a blend of the word camping with the adjective glamorous. Luxury camping, for example in airstream trailers, caravans, but also in jurts, tipis etc. Guesthouse Refugio Marnes follows suit with La Jaima, but this being a Bedouin tent, it is also in line with the culture of Moorish Spain and the province of Alicante. This is not so strange when you consider that this part of Spain has been Arab territory for over 10 centuries. In the Spanish language and in names of towns, the Arab influence can be found to this day. It is sometimes claimed that the Spanish "Ole" has its roots in the word "Allah" and did you know that "beni" in "Benidorm" means "son of"? In Cadiz you can enjoy a pint in the same kind of tent that is used as a beach bar overlooking Tangier. In the interior of the Costa Blanca you will find these kind of tents too, for example on the roof of old Arab buildings.
Thanks to Refugio Marnes you can again see, after hundreds of years, the silhouette of a Jaima in Alicante a Glamping tent Spain!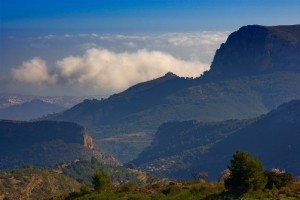 The above heading we did not think up ourselves, but these are the words from an article by design magazine Casa Basic about our tent La Jaima. Casa Basic is a Spanish glossy from la Comunidad Valenciana. Even the Guardian recently posted an article about the relatively new phenomenon Glamping.
Glamping: camping, but with your own bathroom and kitchen inside the tent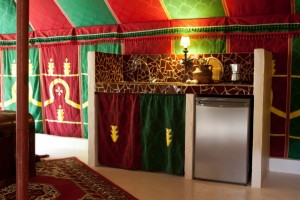 La Jaima was commissioned by us to a tent maker from Casablanca. He has also manufactured the luxury tent lodges of King Mohammed VI of Morocco. The tent is made of a fire-resistant PVC outer layer, which we have imported from Germany to Morocco. On the inside it is a traditionally crafted tent with the typical colors yellow, green and red, that have special meaning in the Muslim faith. Because the walls of this luxury tent are removable, guests need not fear that the tent gets to hot in summer. Also, we have provided an additional air chamber between the layers of cloth to keep out the heat. Normally tents have their facilities outside. La Jaima has all comforts "on board" and our guests don't need to share with other guests staying at Guesthouse Refugio Marnes. Your dog or dogs, if properly trained, are also welcome to stay. Please contact us if you need more information.