Whether you are a aficionado of road cycling or mountain biking, the Marina Alta region offers spectacular routes. Ranging from easy flat coastal routes with plenty to explore, to very strenuous cols.
Road cycling in Spain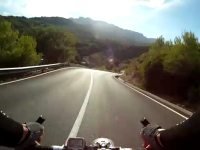 Road cycling is a very popular pasttime in this area of Spain. The Vuelta often passes through this region and several pro-teams base their winter training camps over here. This means that you can rent excellent equipment and guided routes are available. Perhaps more important, motorists are used to cyclists and considerate. If you just want to enjoy the scenery of the Costa Blanca, why not try a 10 mile exciting downhill to the coast, and do some sightseeing.
Cycling in Spain,

Mountain biking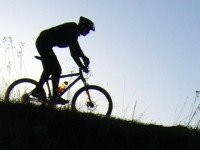 If mountain biking is your thing: the trails start right here at our doorstep. The Sierra de Bernia is littered with trails for you to explore. For instance a 3 mile off-road trail leads you from Refugio Marnes to the CV749 and Restaurant Bon Vent near Bernia. Here you can do a number of on- and off-road routes. Or just enjoy the magnificent views and a great meal.
More information about

Cycling in Spain
If you can't bring your own gear, you can rent a bike in Calpe, or we can make arrangements for you. You will need a helmet and a first aid kit. On longer routes take lots of bottled water or energy drinks and enough food.
Some websites with information are: