Finca holidays at their best, 'Finca Iris', the dream holiday home in the province of Alicante
Finca for rent Spain 'Finca Iris' is a complete and uniquely furnished holiday home located in the countryside of the Costa Blanca. In the middle of nature, yet close to the coast, it is 'the best of both worlds', so to speak. A little further inland, the well-known Jalon valley is a stone's throw away.
The house, dedicated purely to finca holidays, is an old stone built stylish Finca, which is typical of the Valencia region. Finca Iris is a holiday finca with its own private swimming pool, in a special place where you imagine yourself in your own paradise. No neighbours, no noise, just sun, mountains, nature and total peace.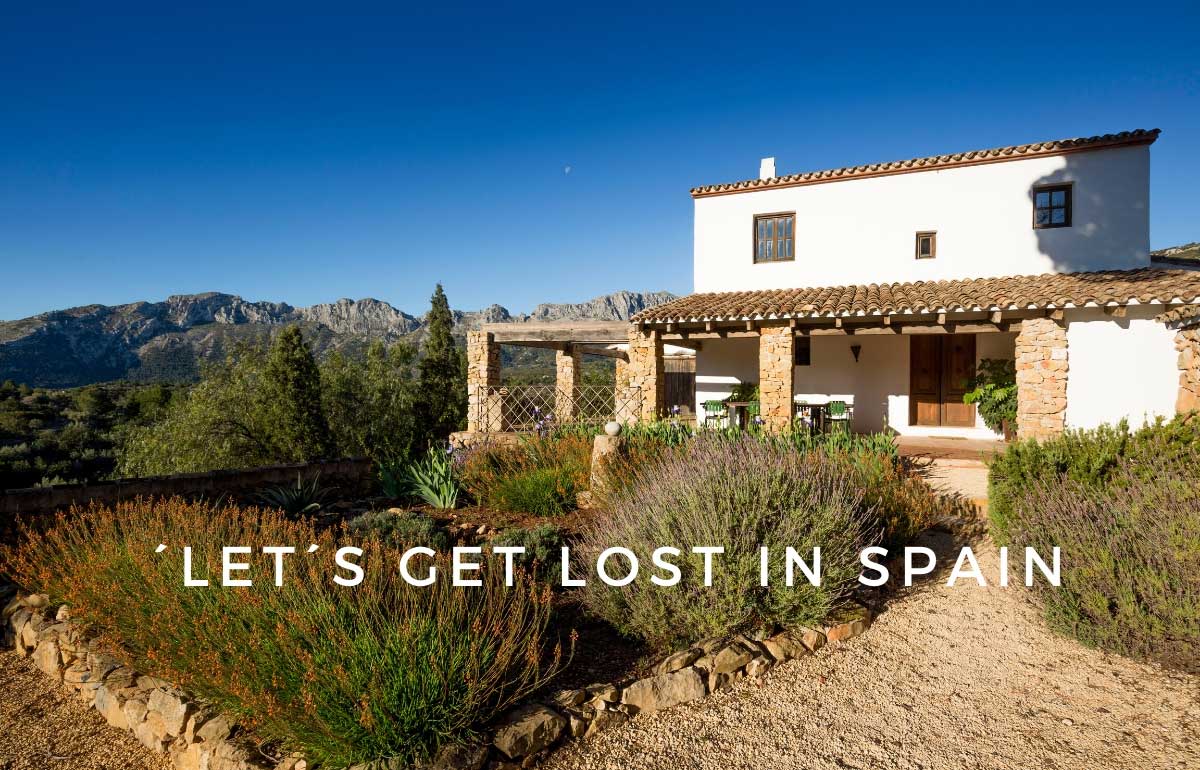 Finca for rent Spain, a fantastic place to enjoy the Costa Blanca in country style
Holiday finca Iris is the place to enjoy all the beauty that the Costa Blanca has to offer. This typical Spanish finca is located just outside the hustle and bustle of the Costa Blanca and is situated in a beautiful setting on the edge of the nature reserve around the Sierra de Bernia mountain. Total peace is guaranteed here. This rural holiday home is surrounded by just over 1 hectare of land. Take a look here for more information about the surroundings of Finca Iris.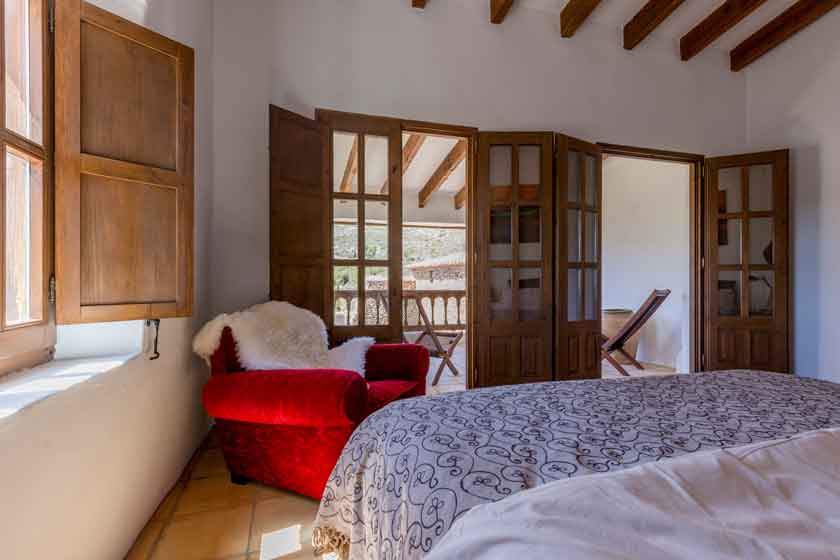 Make your reservation right now
View our holiday finca in Alicante from a bird's eye view
Following a scenic drive through the mountains you will reach the finca. The holiday finca is located a short distance from a village road and has a private drive. Once you arrive, you will be immediately absorbed in the wonderful tranquility and atmosphere which envelops the finca. The entrance to the holiday finca is a via delightful and spacious veranda with a lounging area and a large dining table for long pleasant evenings with the people you love. This beautiful house has 2 spacious bedrooms and 2 comfortable bathrooms. In addition, there is an annexe with another bedroom and bathroom. This is located adjacent to a fully walled private courtyard, just a few steps from the main holiday finca.
Finca for rent Spain, a fantastic place to enjoy the Costa Blanca countryside
Finca Iris is the place to enjoy in 'Ibiza style', all the beauty that our area has to offer. This finca is located just outside the bustle of the Costa Blanca in a beautiful area on the edge of the nature reserve around the Sierra de Bernia. Here, total peace and quiet are guaranteed. This rural house is surrounded by just over 1 hectar of land and has a lovely private swimming pool. After a beautiful drive through the mountains and down your driveway you arrive at your own holiday finca, to be absorbed into the wonderful tranquillity that surrounds this area.
The entrance comprises a lovely spacious veranda with a lounge area and a large dining table for long cozy evenings with the people you love. The beautiful old farmhouse has 2 spacious bedrooms and 2 comfortable bathrooms. The house allso has a separate studio located by the patio behind the house comprising a bathroom and bedroom.
A holiday finca on the Costa Blanca that you'll start to love from the moment you get here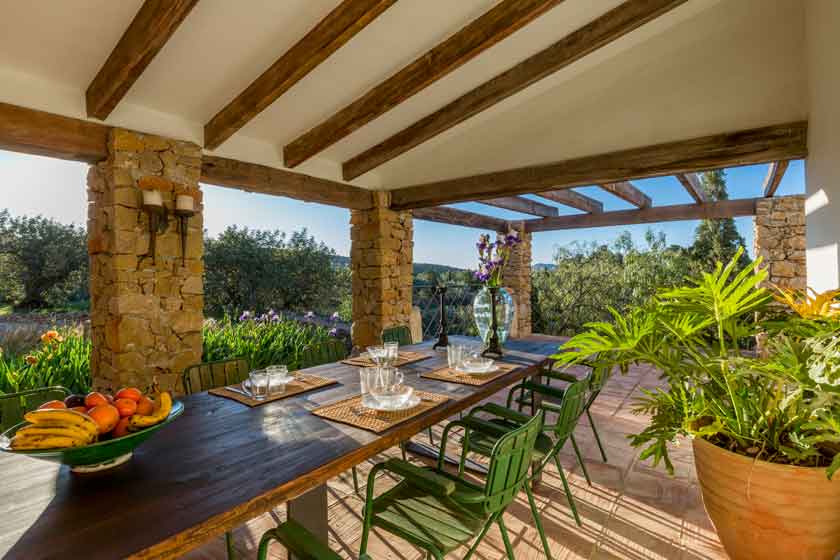 Finca for rent Spain; Finca Iris is situated on a spacious plot surrounded by nature. Here you will never ever suffer from neighbours and can completely relax. On entering you will find a large living room that is stylish and cozy. Walk through to find the dining room where to the left you can access another wonderfully shaded terrace and veranda. From this terrace, you have incredible views of the Sierra de Bernia and the valley.
The kitchen opens onto the dining room. In the living room there is a staircase that leads to the two bedrooms. One of these bedrooms has it's own spacious balcony over it's entire width and an amazing view to nature and mountains that surround you. The other bedroom is wonderfully spacious with a large rustic wardrobe. The bathroom is located in the hallway and has a bath, a double sink and toilet. The other bathroom has a walk-in shower and is situated on the ground floor.
A special place in Spain to enjoy the good life with your family or friends

Finca Holidays in Spain; Opening out onto the patio is the annexe, which has a large spacious entrance. The annexe of the holiday finca benefits from a lounge with seating area and fireplace for colder evenings. Leading off from the lounge is a beautiful contemporary but sympathetically designed bathroom with a bath, toilet and sink. A staircase leads up through the entrance hall, where there is a double or twin bedroom. This brings the total number of sleeping places in the holiday finca to 6. With the addition of 2 extra beds, however, Finca Iris can accommodate up to 8 people. Finca Iris is situated in an area where you can enjoy your active holidays, read on about hiking, cycling or climbing holidays on the corresponding pages on our website
A green holiday destination in Spain and completely on solar power how cool is that!?
Holiday Finca Iris has its own private swimming pool, dishwasher, washing machine and no mains connection, but how does it work!? This is actually no problem at all, and as a guest you won't notice this at all. A large and high-tech solar power system provides all the power for this beautiful holiday finca. It is proof that solar power and off-grid holiday homes really are an option in the Costa Blanca. The heating in the main lounge of the holiday finca is also carbon neutral, via a high-efficiency pellet stove with central air heating.
This holiday finca is an authentic and rustic house, but with an intelligent and future-oriented backbone. Come and enjoy Spain and everything that the province of Alicante promoting sustainable tourism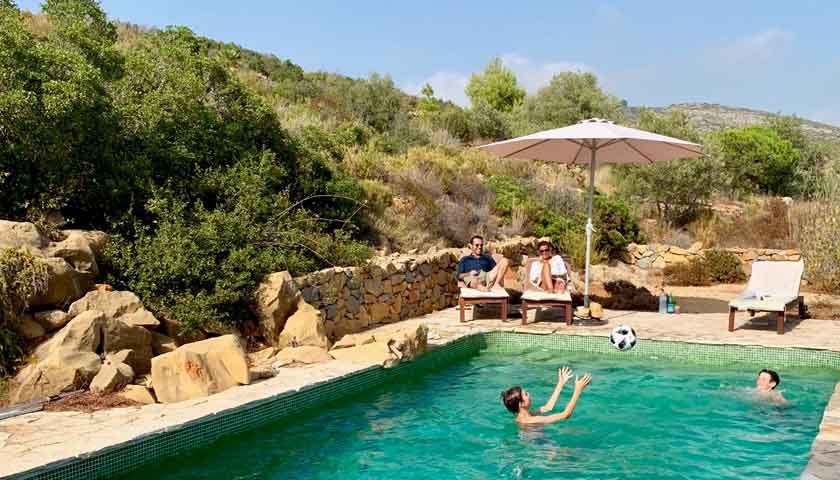 The immediate surroundings of this holiday finca, the Jalon Valley
Finca Iris is located in an area of the dreamy Spanish village of Lliber (pronounced Yi-bear). Lliber is the neighbouring village of the town of Jalon (pronounced Halon), or Xalo (pronounced Shallow), which the Jalon Valley is named after. Together, these villages are part of Vall de Pop (the Pop Valley), a mainly agricultural but also wine producing region in the north of Alicante province.
Vall de pop consists of the villages of Parcent, Alcalali, Benigembla, Murla, Senija and Castells de Castells. It is a wonderful area, where it is similar to spring like weather almost all year round, and is always in bloom. Our area clearly benefits from the very special micro climate of the Costa Blanca. Furthermore, our Holiday Finca is a good 25 minutes away from the village of Benissa where you can browse the many shops, and where you can find supermarkets, banks, bars and restaurants.
If you want to see the beaches of the Costa Blanca, then lovely coastal towns such as Javea, Moraira, Denia and Altea are just over half an hour away. The cities of Valencia and Alicante are a little further away but can also be reached within an hour / hour and a half.
This green holiday destination is part of Refugio Marnes
Holiday Finca , 'Finca Iris', is part of Agritourism Refugio Marnes, allready for 18 years a rural holiday destination on the Costa Blanca. Are you looking for a holiday finca, but for less people? Take a look at the page of our private holiday cottage on the Costa Blanca, La Ruina. Or maybe you want to go on holiday as a couple, and are you looking for a nice bed and breakfast near the Jalon Valley? Have a look at our B&B rooms in Los Establos (converted stables) or the bed and breakfast rooms in La Finca. And last but not least, at Casa Rural (the Spanish name for agrorourism) Refugio Marnes you can also Glamp in the Spanish Glamping Tent, La Jaima.