Rock climbing Spain at the climbers Paradise in the Alicante area
Rock climbing at the Costa Blanca is varied and extensive. Moreover the quality of the routes is great. Well-bolted slabs, tufa-pulling, trad climbs and sea cliffs, all solid limestone. It is a good place for a climbing holiday, with plenty moderate routes and even starter grades at most crags. Take care though, because a well-used easy route on limestone can mean slippery grips, so it may pay off to climb either a less used one or try a more moderate route! In winter, when the temperature during a sunny day usually averages 20°C, conditions are ideal. The few bad weather days are easily spend in one of the picturesque villages in the region, or just relaxing at our Refugio of course.
rock climbing Spain near Pinos and Bernia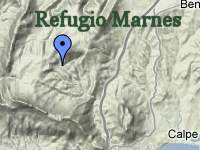 Refugio Marnes is a 10 minute drive from the Pinos and the Sierra de Bernia crags. These alone have more than 30 routes. You can download the topos (right click, save as, PDF):
The Peñón de Ifach and the sea cliffs of Toix are both a 30 minutes drive from Refugio Marnes.
So if you are a (aspiring) climber Refugio Marnes offers a great startingpoint for your trips. After the exertions of the day, you will enjoy the comforts of our accommodation even more.
More information on rock climbing Spain;
Some websites with information are: