Who are your Bed and Breakfast hosts behind the resurrection of this beautiful place called Refugio Marnes?
We, Richard Steenblik and Willem Pieffers, both 50-ish, have been a team for almost 30 years. We specialize in the renovation of old buildings, which we have done successfully five times. Both the new owners and the design/housing press acclaimed the results. All this experience culminated in Refugio Marnes.
hosts
Richard Steenblik: "Born in Rotterdam, but really a Twent at heart. Raised in and around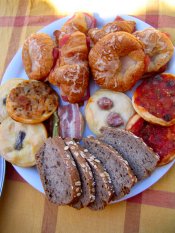 Borne in Twente. I have a 'consumer' background, had a "Bread and Pastry" education in Almelo and I then did Food Technology in Ede. At the Dutch Institute for Dairy Research (NIZO) I have over 13 years in various positions and my part in the development of new products such as cheese 'Old Amsterdam' 'Milner' etc., I can call myself dairy technician. During my work at the NIZO I have done the Higher Agricultural School. Once in Spain I had more 'food' experience in restaurant kitchens. Cooking is my passion. Besides Refugio Marnes Casas Rurales together with Willem I run Refugio Marnes Jardines, a garden design, construction, consultancy and maintenance company. My hobbies are cooking, plants, gardening, pets, fishing, reading, water polo and swimming competitions and entertainment."
Willem Pieffers: "I am Willem Pieffers, born in Delfzijl, partly raised in Germany and then in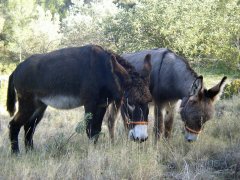 Rhenen. I have an agricultural and horticultural background, then I went to NIMETO (a general design training) in Utrecht, which I did not finish. Between this training and my military service I worked at a riding school and worked as an assistant Dolphin trainer at Ouwehand Zoo. After my military service I have worked 13 years in psychiatry healthcare. The bulk of the time on open wards where multi-disciplinary assessment was conducted. Once in Spain Richard and I used all the experience we gained in previous construction projects to start Refugio Marnes. In addition, together with Richard, I run "Refugio Marnes Jardines" company, which distinguishes itself by a strong customer focus and an approach to gardening "with" nature and not, as so often happens, against it. Hobbies: Design, fitness, reading, spirituality and personal growth, (farm) animals, old cars and everything related to technology and environmental questions."

We very much welcome you in Refugio Marnes and, of course, your stories!