Five reasons why your next holiday should be a mountain bike holidays on the Costa Blanca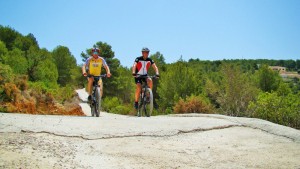 The Costa Blanca is well known as training area for road cyclists. From recreational cyclists to the professional Protour teams, many of them come to places like Calpe, Altea and Benidorm to get their much needed cycle training. And this is not surprising, taking into account that the Costa Blanca is the area in Spain with gentle winters and relatively cool summers. Moreover, the route profile of the Costa Blanca roads provide a natural interval training. It is regrettable that the Costa Blanca is less known as mountain bike area because there are many – at least five – good reasons why you should choose the Costa Blanca as your mountain bike holiday destination.
1. There is much to discover in the Alicante province
Mountain bike holidays costa blanca; The Costa Blanca has an excellent network of MTB tracks. Just off the coast lies a wealth of tracks. The Jalon valley for example, has over 260 kilometres of tracks and Javea has another 210 kilometres nearby. And these are just the signposted routes! On websites such as Wikiloc and GPSies you´ll find even more.
2. It´s an ideal area for training and improving your MTB skills
Mountain bike holidays costa blanca; Costa Blanca MTB tracks are varied and offer both beginners as well as more advanced bikers challenges. Comfortable and more difficult tracks are close together which makes the area especially suitable for those who want a quick but thorough introduction to the sport. If you have for instance a week to spend, it is possible to stay in a single place or hotel and try different routes that week with increasing level of difficulty. Obviously, a pretty good shape is required, but also the less trained MTBer should not fear getting stuck on all too difficult sections.
3. You do not have to choose during your moutain bike holidays Costa Blanca
mountainbike holidays costa blanca; Spain has many beautiful mountain bike areas. Especially the Pyrenees and the Sierra Nevada are famous for their breathtaking single tracks. But you should not forget that these tracks can only be found high in the mountains. This is making it difficult to do anything else than mountain biking on your holiday. The Costa Blanca mountain bike tracks are never far from the coast where off course the better restaurants and other places of entertainment are to be found. You´ll be amazed finding yourself in the afternoon on a lively terrace at the seaside, after a morning on the bike in pure nature with lots of privacy.
4. Peace, quiet and tranquillity
Mountain bike holidays costa blanca; For those who may have gotten the wrong idea after reading reason #3: mountain biking on the Costa Blanca takes place close to the sea and the beach, but while you are out on the bike the crowds of the coast are far, very far away. The mountain bike tracks take you along sleepy villages, through vineyards, passed olive trees and across hills with little housing. Unlike road cyclists will mountain bikers on the Costa Blanca encounter almost no motorised traffic, with the exception of one or two tractors!
5. The images of mountain biking over here speak for themselves
If the words of the four previous reasons were not convincing enough, click on this link . The images in this short video are from a cycling trip from Benissa to Pinos and illustrate the beauty of cycling on the edge of land and the Mediterranean.
Mountain bike holidays costa blanca; Refugio Marnes collaborates with Snakebite MTB Adventures from Moraira. Snakebite has robust mountain bikes and specialises in guiding small groups MTBers through the Jalon valley.
Snakebite has a special offer for Refugio Marnes quests who rent a mountain bike for five days (from two persons):
five days MTB rental
bicycle Insurance
drop off and pick up of the bikes at Refugio Marnes
guided MTB tour through the Jalon valley, taking approximately 4 to 5 hours
MTB map Jalon valley
The price of this special offer is € 105,- p.p.
See for more information: www.snakebite-mtb.com have fun during your Mountain bike holidays Costa Blanca