Salinas de Santa Pola a great birding site in the Alicante province
Birding site Alicante; The nature reserve Salinas de Santa Pola is reached after a 1.5 hour drive from Refugio Marnes and together with El Fondo (or El Hondo) park, which is near, it is a must see for bird watchers in this region of Spain. It is advisable to visit both areas together in one day. Soon there will be an article published on El Fondo as well.
Birding site Alicante; The Parque Natural Salinas de Santa Pola is 2470 hectares and it is a wonderful example of the fusion of nature and human exploitation of an area. Since the end of the 19th century this area is used for saltmaking. The sea water circulates through a network of several water basins, as a result an ever increasing concentration of salt is left behind due to the evaporation of the water. Because these basins are filled with water throughout the year the ecosystems remain in tact and this is of great biological importance. Birds eat the fish and invertebrates that end up in the basins and the salt production benefits from the minerals that the birds leave through their droppings. Because of this symbiosis between nature and man, preserving the salt industry is one of the main topics for conservationists.
Birding site Alicante; Within the boundaries of the reserve different habitats can be distinguised; the coastal strip of dunes, salt flats and the marsh area that lies around it. Because of these diverse habitats a wide variety of species occurs in this area. Some notable breeding colonies are those of the avocet, black winged stilt (see photo), marbled teal, shelduck (in other regions in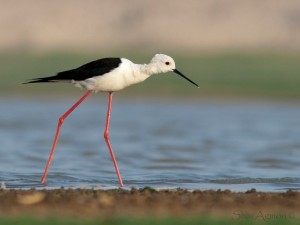 Spain it is difficult to observe this specie as a breeding bird), sandwich tern and the Kentish plover.  Furthermore, the population of flamingos is impressive. Other species that can be observed in this area are: little egret, blue heron (in spring more heron/egret species occur here because they move between el hondo and salinas), Audouin's Gull, Slender-billed Gull, little gull, little tern, shoveler, red-crested pochard, pochard, teal, grebe, bearded tit and raptors including gray and marsh harrier. Several species from the family of sandpipers and plovers beach can be observed as the dunlin, redshank and black-tailed godwit.
Birding site Alicante; Because of the salt industry, large parts of the reserve are privately owned, this makes the accessibility of the reserve to the public limited. The best places to visit are the information center (inside of the building there is an observation point with a telescope), Torre Tamarit (which lies along the N-332) and the yellow route to Playa El Pinet (here one can find several good observation huts) (see attached picture for a map). Here a link to my bird sightings (Noted that I am still a beginner in determinating sandpipers and plovers and gulls, so those ones are mostly absent on the list).