Walking holidays Spain, a package with three different options
Walking holidays Spain; For late summer, Autumn and Winter we now offer three different hiking packages. Spain is an excellent country to take long walks. When the British roads glisten from drizzle, rain and hail in October it is still summer overhere. And when its still really winter in the UK over here the biological Spring is starting.  And during the months of January and February, almond trees are in bloom and they colour the Costa Blanca region in beautiful white and pink.
During our Hiking weeks, you can stay at Refugio Marnes on a Bed and Breakfast, full board ore self catering basis, you choose! In particular the Costa Blanca is also an ideal holiday destination for walking in winter. This because its pleasant temperatures, clean air and the wonderful contrasting environment. Hikers from across Northern Europe know the Costa Blanca is a great region for walking holidays at this time. Saying that, we also have to  say that with the area so vast you will hardly notice this influx.
Walking holidays Spain; Refugio Marnes now offers three different walking packages.
Click on your preferred arrangement and read all about the possibilities and prices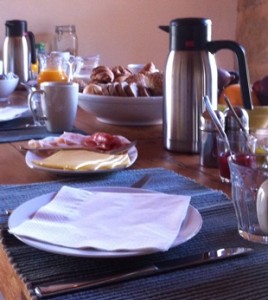 All three possibilities are walking tours for the duration of one week. Longer or shorter bookings can also be made, so consult us to discuss the options. These packages run on different levels of intensity and again, with each you can stay with us based on;
bed and breakfast;
full board;
self-catering option.

The full board basis is only open to groups of 4 or more people. We can accommodate up to 16 persons. For prices for bigger groups, we can make you a personalised estimate. Don't hesitate to ask for more information and send us an e-mail
Not included in the hiking packages at Refugio Marnes are:
 flight (alicante, Valencia or even Murcia)
car rental
transfer Airport / Refugio Marnes (can be arranged if necessary)
travel Insurance, we advice you to have one
Period in which you can book your Hiking Alicante Spain Holiday;
This offer runs from the beginning of October to the end of  March of each year. Book your hiking package now and send us an email! Do you want to find out more about the Costa Blanca? Have a ook at this website