A costal hike during your hiking vacations spain ´el Paseo Ecológico´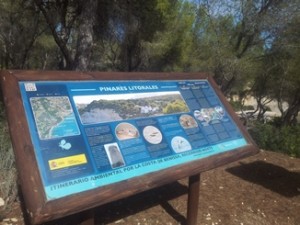 This easy hike along the "coast of Benissa"  is approximately 6.5 kilometres back and forth. The "coast of Benissa" is written in quotation marks because Benissa itself is not situated directly on the coast. But coast refers to the coastline which is part of its municipality. This entire walk can be completed in about 2.5 to 3 hours, and in spite of the difference in height, is a simple walk. Everywhere you will find easily accessible steps so that the rise and fall is simple. This walk can start at any point, because you are going back and forth. We started at Cala Llobella, a pebbled beach that is not well signposted from the road, however you can follow the signs indicating 'Platges' (Valencian for beaches) from the roundabout at the bottom of Benissa. This road is the CV-745, with a T junction at the end with the coastal road going north and south. At this intersection a sign shows the direction of the beaches, and for Llobella turn left, heading north.
After several turns a sign with 'La Chaca "appears on the right in large letters, here we turn right. This is a typical Spanish narrow path leading to a small beach. At the bottom there is a car park and you can walk back a bit upwards where the signs 'Paseo Ecológico' indicate where to go.
Hiking vacations Spain; This trail, which passes along the top of the cliffs, offers great views of the various bays and as well as the colours of the Mediterranean Sea, which is beautiful azure in certain places. Along the route you will find informative signs (see photo) in three languages (Spanish, Valencian and English) which provide more information about the surroundings, the beaches, the history, geography and the flora and fauna that are found there.
Along the route there are several restaurants and bars overlooking the sea where you can stop to have a drink or a bite to eat. At 'Playa La Fustera' there is the second tourist office of Benissa. Here you can access more information about hiking vacations Spain, this route and the Costa Blanca area.
See this link for a map of the route and for example the altitude. Hiking vacations Spain a great idea the whole year trough.