Hike Refugio Marnes–Refugio Vista Sierra de Bernia, a nice hike on your Hiking Holidays Spain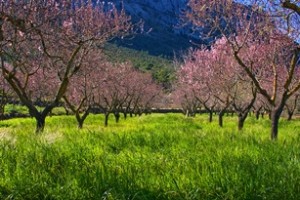 This hike with its beautiful scenery starts right from Refugio Marnes and takes about two and a half hours. The terrain is moderately challenging and could be incorporated into a morning or afternoon activity as part of your hiking holidays Spain.
To the right hand side of the main building of Refugio Marnes a path is indicated with a red arrow on a rock next to the road. The trail begins with a steep ascent passing by the solar panels and after a couple of minutes a sandy trail appears. Here you turn right, and on this quiet road a feeling of being in a remote place in the wild takes you over.
Passing first a house on the right continue until around 100 yards before the second house where the red arrows on the left side of the road indicate the next phase of this trail.
This section of the hike is easy and passes above the second residence. The sandy trail has a pretty reddish brown colour reminiscent of a clay tennis court. Upon arrival at a T-junction take the path left, basically cutting back on yourself. The arrows marking this junction can be confusing but the easiest way to know you are correct here is that by turning left the Sierra de Bernia appears in sight. Such a gorgeous mountain range!
Hiking holidays Spain, even in winter a Sunny activity.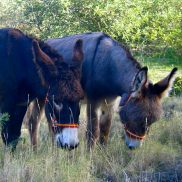 The path continues through a sloped landscape where you will have stunning views of the Mediterranean Sea and the coastal town of Calpe. This is a good photo/selfie opportunity!
When the trail starts getting steeper, a small pine wood appears and because the wind has little effect here it feels like a quiet, peaceful haven. This is  a good spot to have a drink or a small bite to eat. Further ahead a road is crossed diagonally to the left following the official yellow/white trail. A small descent leads to an old, abandoned farm and the path continues over a hill top and eventually reaches a municipal camp site. During the summer months it is quiet here, but in winter Spanish families gather to cook and eat together, typically Valencian Paellas are prepared and shared at this camping/picnic site.
This trail, on your hiking holidays Spain, is followed through the camp site and well before the sign indicating 'zona de acampada' a small path between shrubs on the left is taken. Carry on and just prior to a building with a turquoise coloured wall turn left and the parking area of Restaurante Vista Sierra de Bernia is reached. This is a good place with a beautiful view for lunch or just a drink.
Follow the path in front of the restaurant as it makes a turn right for the last section of the trail, with the Sierra the Bernia now situated behind you. An (empty) dog kennel is passed and further down, at a wider sand road a left turn is taken. Just before this road you will find a concrete drinking post. This road leads all the way back to Refugio Marnes. Hiking holidays Spain, a great way to spend your holidays. For general information about ´La comunidad Valenciana´click here