Jalón, Llíber walk during your Hiking holiday Spain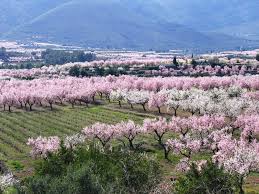 This relatively easy hike (lenght: 4,6 miles, duration 2,5 to 3 hours)) is beautiful and passes through different landscapes. There are farms, a riverbed (Rio Jalon) and orchards with the views over the surrounding mountains which are magnificent! Drive from Refugio Marnes to Benissa and at the roundabout at the bottom of the village, take the road to Senija. This village is crossed and before the next town (Llíber) the CV-748 (direction Gata de Gorgos is taken and wen a sign indicates 'Restaurante Asador Vall de Pop' (camino bassa 20 Lliber) this road is taken, and here the car can be parked. Walk the CV-748 in the opposite direction from where you came from, until the sign 'Cami Jardin' appears, this road is taken. Some houses are passed and in front of the entrance of a house a narrow path runs down on the left hand side
(see photo). Continue this walk during your hiking holiday Spain down steps bearing right, until you reach a paved road whereupon another path right is taken upwards.
Hiking holiday Spain the whole year trough an escape from British weather conditions
Once at the top, head right down to a gate of a house (see picture)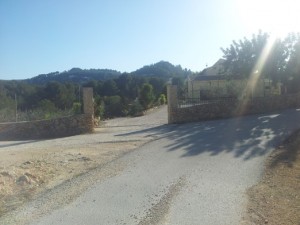 take the left path which again is indicated by an orange dot. (these are mostly faede so best to follow this photo indicating where to bear left) An equestrian centre with stables, now turned into a llitle private zoo (we saw sea lions) and a house are passed. The path that continues more ore less straight ahead is followed here. The barranco, freely translated as "valley", from the Rio Jalón is crossed, The path continues passing through an olive grove, then passed an orchard. Turn right, after a small stretch trough some pine trees, where you see this fence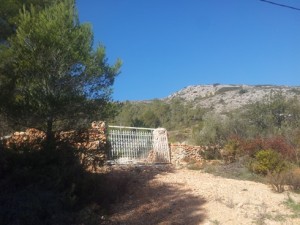 (see photo). Once more the riverbed of the Rio Jalón is crossed. Arriving at a concrete road keep right and this will lead to the CV-748. This road is crossed to 'Camino Xaquera No 1' and continue until a stone with orange, blue and pink dots indicate that one should turn left!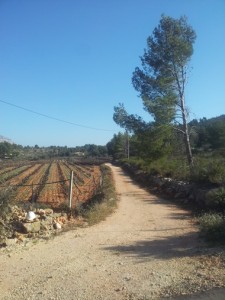 (see picture) Keep right here for the following half mile ore so until again on the right hand side a tiny path must be found, which leads through a wooded area with fantastic views of the cliffs, and this path twists and turn upwards. Once the pine trees are left behind a right turn is taken,it, this path also ascends upwards, leading onto a paved path. Turn left and go up to a T-junction, keep left here again. This paved road descends to the CV-748 where you will see the parked car.
The end of a beautiful walk during your hiking holiday Spain!