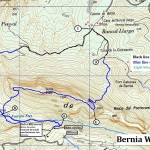 For your walking holiday Spain, this is a wonderful and exciting walk on the west side of the Sierra de Bernia. It does take the necessary scrambling (including using the installed ropes and chains) to walk on the 1100 m high ridge, but the views are breathtaking. You can start the tour from the Caseria Bernia (on the side of B&B Refugio Marnes, about 20 minutes by car), or from above Altea la Vella (approx. 50 minutes). For this you have to drive a steep and unpaved road to the top.
This hike as part of your walking holiday Spain is strenuous, both because of the height and the terrain. You should not have too much fear of heights. It may be 'only' 10km, but plan for at least 5 hours (excluding admiring looks around, resting, and eating and drinking ;-)).
For a complete despcription of this walk, visit the Costa Blanca Mountain Walks website.
© Walks in Spain – Costa Blanca Mountain Walkers