Coll de Rates a great bike route on your road cycling Costa Blanca holiday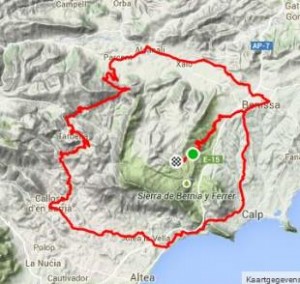 An unmissable addition to this road cycling page is an article about one of the most famous climbs of the Marina Alta, a region in the province of Alicante. In the middle of the stage, the Coll de Rates is climbed.
From Refugio Marnes you descend towards Benissa and at the top of the village you can can stop at  'A Pedals', the bike shop in Pau Ibañez. Here, you can buy all kinds of bicycle accessories and carb gels.
The stage goes down to the village heading towards Senija, a great warm up to get ready for the climb of the Coll de Rates and through Senija via Lliber, Xaló and Alcalalí to Parcent. This route is in Spanish terms relatively flat, passing through a valley between several hills,  vineyards and citrus plantations. Arriving in Parcent take a left turn in the direction of Tàrbena; this is the CV-715 and where the Coll de Rates starts.
Road cycling Costa Blanca; It is a nice gradual second category climb which is about 4 miles long. The view over the valley becomes more beautiful as the road ascends. At one point a sign announces 'Meta – 1 km, 5.2%' appears on the right side of the road, "Meta" being the Spanish word for "finish" so if you still have some energy left you can sprint to the very top of the climb! Here you have the opportunity to compare yourself to the world class riders, who have riden this segment before you. On this stretch, called "coll the rates official", the World Champion for 2014 Michal Kwiatkowski is ranked 9th out of 2902 competitors.
Road cycling Costa Blanca, a great trip in autumn, spring ore winter
After reaching the top, the route descends for about two kilometres, before going up again. This is tricky because the mileage which has just been climbed is not descended directly. On this section you will have wonderful views of the valley and on the other side, of the Sierra de Bernia. After arriving in Tàrbena you continue downwards to Callosa d'en Sarria for about 6 miles. In this village maintain the direction of Altea la Vella, and after Altea la Vella, descend towards the national road, N-332, where you turn left to Calpe. On this road, it is important to keep well to the right, especially in the tunnels of Mascarat. Follow the N-332, and once Calpe is passed it is a gradual climb of about 5 kilometres up to the exit Pinos, just before Benissa, marking the final phase of this road cycling Costa blanca trip.
The last remaining power in the legs will be used on the climb to Marnes where you will arrive at your holiday destination after a journey of 53 miles, with climbs exceeding 1.5 altitude miles!
Enjoy road cycling Costa Blanca!