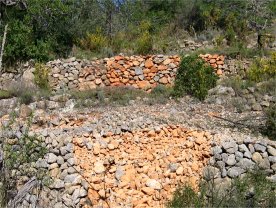 "La Comunidad Valenciana" has a number of unique characteristics. Benidorm has the best-oiled machinery of mass tourism in Europe. The healthiest climate (World Health Organization) in Europe. A unique language Valenciano, spoken in a very limited area (ie only in this "comunidad") and: bancales. In English "terraces".
On all slopes, hills, mountains and valleys, you find them. Stacked stone walls functioning as soil-retainers. This way, once the Phoenicians, the Moors and later the Spaniards made this difficult and poor soil suitable for small-scale agriculture. Blood, sweat and tears it must have cost. The "Moriscos", the Islamic Moors, who converted to Christianity received these plots of land as payment and made them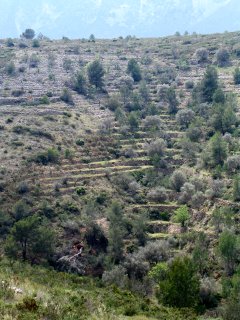 suitable for use via these "bancales". Now many of these plots are abandoned, and as time goes by, the eroding walls collapse and the ground sags away. Eventually an entire landscape will disappear.
Out of appreciation for this unique landscape, Refugio Marnes has started repairing the stone walls on her property. This is a very large job, 50 acres is a lot of land, much of which consists of these bancales. We cherish this ancient landscape and need funds to help do the job and/or people who have the know-how, the funds and/or the energy to help us. Do you feel your hands starting to itch when you see pictures or read this story: please contact us at [email protected]