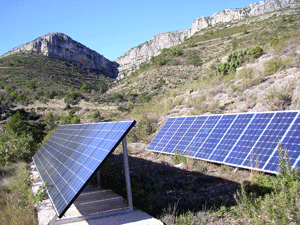 Anyone knows in Spain "it's always sunny". Against all logic, however, Germany has a head start in terms of the amount of solar energy produced. Spain, however, is starting to understand that the sun is an inexhaustible source of income. Not only the sun is the great ball of fire to provide the tourist with a nice tan, but it is an endless source of energy.
An energy source without CO2 emissions (on earth) and increasingly seen as the solution to global energy issues. A few years ago, a visionary from General Motors predicted that what happened with information via the Internet, in the future will happen to energy. A World Wide Web of energy sources alternating between using and producing. Imagine what that would mean to the world. No more dependence on fossil fuels, less central power with regard to energy etc. Great, isn't it!
Refugio Marnes uses as well as produces energy. At the moment 24 solar panels ensure that the entire finca is provided with energy. The swimming pool, the refrigerators, the dishwasher in the main house, the waterpumps and, of course, all lighting is being generated by photovoltaic cells. Our guests don't notice anything. We only advise them on arrival, not to use any heating or cooling equipment they may have brought with them. For days without any sun and at peak energy demand we use a diesel fueled generator. The fuel we use is composed of 30% renewable sources. To solve this "problem" we are still looking for alternatives. Do you have information on generating electricity without burning fossil fuels? Let us know, contact us at [email protected]
Refugio Marnes suffers considerably less power outages than the coastal area, the surrounding villages and hamlets. The past eight years no guests have been without power. Reliable and clean energy is a good alternative.
Up till now, Refugio Marnes is "an energy island", off the grid, i.e. we provide for ourselves. In the near future, we'll be connected to the grid and we will be able to produce energy and become a part of the "World Wide Energy Web". We have plans to double our current system, in order to provide "solar traction" to our guests. Imagine waking up in your lovely B & B room, enjoying the sun while having breakfast and then: use our electric car to explore without any pollution to the beautiful surroundings. We will keep you informed of developments via our blog and Twitter!