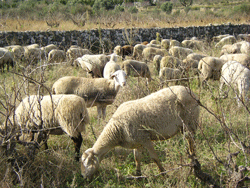 Historically, the mountains and valleys here in "la Comunidad Valenciana" are being grazed by large herds of mainly sheep and goats. These farm animals were part of a whole agrarian society that existed for centuries as everywhere in Europe. With the rise of tourism and the accompanying massive building boom, this industry has become marginal. Only occasionally you'll see a shepherd with his sombrero, his dog and a varying number of sheep, goats and even donkeys.
These herds were of course a source of income to their owner, but also had a very important side effect. Grazers keep the the undergrowth, blossoming mainly in autumn, winter and spring, in check. The strong decrease of the grazing is one of the reasons that parts of Spain and the Costa Blanca are more vulnerable to fire. Once parts of Spain were overgrazed and became barren, now it's the opposite.
In the Netherlands, using grazers is a very common form of nature management and sometimes fire prevention. In Spain, "Pasto Cortafuegos" (roughly translated pastoral fire fighting) is becoming a "new modern" way of fire prevention! Refugio Marnes will introduce this on its own property but also in the region.
Refugio Marnes wants an initiating role in the reintroduction of this ancient form of using livestock
we will take repsonsability for the long-term coordination of this project
search marketing opportunities for products of this type of livestock (milk, wool, meat)
use these products as much as possible in the kitchen of Refugio Marnes but also the restaurants in the vincinity.
Do you live on the Costa Blanca and would you like to be a part-time shepherd of a flock of sheep and a dog while enjoying the landscape? Do you have ideas about the use or the marketing of the produce? Or would you like to take part or even co-manage this project? Please contact us at [email protected]