Refugio Marnes is, above all, a place to rest; getting away from those persistent background noises in our lives. Here, you can read a book, soak the sun, have a swim or fall asleep under the shade of a tree. Simply enjoying the sounds of nature. Guests from the city who stay with us 'complain' sometimes of ringing ears, because of the quiet. After a two hour flight you've traveled from the heart of London, Liverpool or Manchester and then… silence. More and more people are looking for peace and quiet on holidays. Ecolodge Refugio Marnes is such an "acoustic and sensory oasis". But when rested and recharged you can enjoy a whole variety of sports in our region!
Active holidays spain; Do you love walking or is cycling your thing?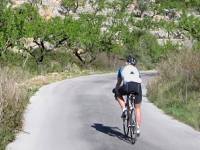 The immediate vicinity of Refugio Marnes is ideal for a leisurely stroll but also for serious walking, hiking or the popular Nordic walking. Right on the doorstep of your holiday home La Ruina, your tent La Jaima or B & B Los Establos.
The Sierra de Bernia is famous in the cycling world, professionals have their spring training camps on the Costa Blanca. Mountain bikers can go directly from the property for a spin along the winding mountain roads. The mountains around us are a perfect setting for the most extreme form of mountain biking, the so-called 'downhill'. Stay with us and take your bike with you in the plane or car. Of course, you can rent excellent MTBs or road bikes as well.
Active holidays spain; Or rather horsebackriding or climbing?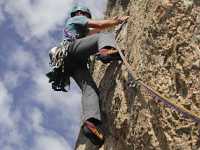 The Costa Blanca is so much more than partying in Benidorm, or relaxing on the beaches. We have lovely authentic Spanish villages, rugged mountains and sierras. One of the best ways to explore our varied region, is on horseback. There are a number of "club hipicos" near Refugio Marnes, give it a try!
The Marina Alta is a veritable paradise for sportsclimbers. Many crags in different difficulty categories lure the connoisseurs to the Sierra de Bernia and the Puig Campana and their immediate environment. The first crags are only a few minutes by car from Refugio Marnes. In many parts of Europe, sports climbing is subject to winter break. On the Costa Blanca this sport can be practiced 12 months a year.
The Costa Blanca: parapenting, hanggliding and of course sailing and diving.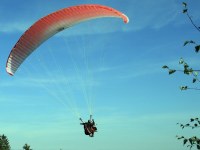 You are approximately 30 minutes by car from the coast, so for beach and aquatic activities you have many options. Around Christmas time, 'beach weather' is not unusual here and a golden tan can be gently created under the december sun. The coast can become crowded in mid-summer, but unspoiled beaches and 'Calas' let you forget you are in a tourist area, are easily found.