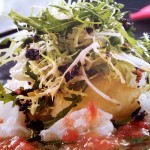 Perfect for a lunch on the terrace, with a regional organic white Chardonnay from Villena Enrique Mendoza.


Ingredients:
8.5oz washed and salted cod fillets
7oz cooked potatoes
9oz olive oil extra virgen de Caudete (Albacete)
small yellow sweet pepper
1 small head endive
1 small bag of rocket salad
2 ripe tomatoes
4 tbsp black olives
a little tabasco
Preparation:
wash the endive and the rocket salad in cold water
make a puree of the cooked potatoes, add 2oz olive oil and a pinch of salt
mix the remaining olive oil with a few drops of Tabasco and the chopped yellow sweet pepper; pour in a clean jam jar and shake vigorously until a you have a dressing
grate the tomatoes and store them in a cool place
Serve:
Put a tablespoon of cold mashed potatoes on a plate, dress this a with a little grated tomatoes, salad mixture on top. Spread pieces of the cod fillets around the dish, with a little grated tomatoes. Finally, garnish with the chopped black olives and the dressing.
Tip:
The fine yellow leaves of endive look nice and decorative, but the green leaves have more flavor and are healthier (more chlorophyll). So use them well.