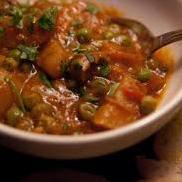 Caldereta de Cordero Extremeño, or simply stew with lamb from Extremadura.
A simple and tasty rual dish, but with a mixture of crushed garlic, onion, peppercorns and red pepper, which makes the whole particularly tasty.

Ingredients for 4:
2 tbsp olive oil
6 cloves of garlic, peeled
1 small onion, sliced
about 3.5 lb lamb stew with bone in pieces of around 5 cm
3 bay leaves
little teaspoon of pimentón (Spanish paprika)
salt
12 tbsp full red wine
1.5 teaspoon wine vinegar
12 tbsp chicken broth
6 peppercorns
2 tbsp chopped fresh red pepper
Of course you can vary the ingredients to your taste, but this is the original.
Preparation:
Heat the oil in a casserole and fry the garlic and onion until the onion is soft and glassy. Take the garlic and onion from the pan and keep aside. Put the meat, bay leaves and pepper to the pan and mix well.
Allow the meat to brown slightly and sprinkle with salt. Add the wine and vinegar and stir, turn the heat up to reduce the moisture.
Stir in 6 tbsp of chicken stock, put a lid on the pan and let it simmer until the meat is almost tender (about 1 hour).
In the meantime, use the hand blender to mix the rest of the garlic, the onion and the peppercorns (chop very fine).
Stir this mixture and the remaining chicken broth through the stew and let it simmer for about 30 minutes.
This dish is delicious with mashed potatoes and of course with red cabbage and apple.
Bon appetit!