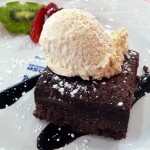 A big mouthful this time: Bizcocho de chocolate y aceite de oliva virgen extra (Chocolate Cake with extra virgin olive oil from Caudete), but a very delicious mouthful!


Ingredients:
7oz sieved flour
1 teaspoon fine salt
6oz unsalted butter
2oz olive oil virgen extra (I always use Spanish olive oil from Caudete, Albacete, has a nice spicy taste)
6oz dark chocolate
16oz dark sugar (cane sugar)
4 eggs
2 tbsp powdered sugar
vanilla ice cream
Preparation:
preheat the oven to 170°C.
mix the flour with the salt and sieve it
mix chocolate, butter, half the sugar and the olive oil and let it melt "au bain marie", stir slowly
add the eggs and the remaining sugar to the mixture and stir well, but do not whip.
divide the chocolate mixture in 2 parts
stir 1 half of the chocolate mixture with a spatula until it is creamy
beat the other half of the chocolate mixture well, until it is airy and coloring almost white
mix the two parts of the mixture very easy and slowly with a spatula, taking care it stays airy
using the spatula, add the sieved flour very carefully
pour the mixture into a baking tin, and bake about 24 minutes in the pre-heated oven; the inside must remain a little moist like a brownie.
let it cool down, take it out of the baking tin and put in the refrigerator
Serving tip:
Cut the cake when it's still cold, heat in the hot oven or 10 sec in the microwave, sprinkle with powdered sugar and serve with vanilla ice cream.
Extra tip for daredevils ….
Add a little freshly ground black pepper to the melted chocolate mixture, for an incredible delicious scent!
Or try a pinch of salt over the vanilla ice cream, you'll start to hallucinate!