Viva España (Dutch number 1 special interest magazine 2008)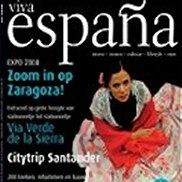 With the Bedouin?
At Refugio Marnes can stay in a real Jaima: a luxury Bedouin tent and stylishly equipped for a comfortable and original holiday you'll never forget.
The tent is set on a stone platform, equipped with bathroom and kitchen. Not just tripping over the guy lines of the neighbors, but a spacious place with lots of privacy and 19 acres where you can stroll. Delicious undisturbed rest and enjoy the morning straight from bed into the pool!