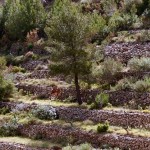 Refugio Marnes consists of over 50 acres of land. The main activity of our Ecolodge is rural tourism. This means that every guest has 3.5 acres at his/her disposal for up to 14 guests. But the main value of these grounds for our tourism project, is to safeguard our guests peace and privacy from other activities.
That being said, our lands can have other and probably better uses as well. That's why we are looking for people who have ideas on these uses. The property is not suitable for modern agriculture, but farming (grapes, olives, almonds) in a more traditional way is certainly viable.
Important to us in the search for a new purpose are:
it shoud be compatible with rural (eco) tourism and preferrably add to that goal
preferably, it should be organic
the impact on the landscape in its present form should be fairly limited
the initiator must have an affinity with this place and its character
it should contribute substantially to the income of Refugio Marnes, to enable us to maintain these lovely lands and generate an income, ie. someone willing and able to invest.
Refugio Marnes offers:
lots of room, ie. 50 acres spread over many relatively narrow bancales (terraces)
contacts with municipal and provincial governments/tax authorities, banks etc.
complete supervision of the project
staffing the project/monitoring the project in the absence of the initiator M/F
lending support and expertise in all phases of the initiative
opportunity to live on the property.
Examples: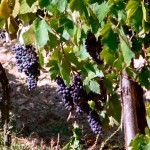 growing your own wine and / or the re-cultivation of the olive trees, almond trees and carob trees
protecting or reintroduction of an animal species in the form of a breeding station or shelter
The cultivation or grazing of land near Refugio Marnes by small herbivores (goats, sheep, lama, alpaca)
If you are interested please send us information re. your experience and ideas, and contact us!