Walking Costa Blanca , an intensive program. A very intensive schedule for the experienced hiker who wants to challenge themselves.
This package consists of a one-week stay at Refugio Marnes and our guests can choose to stay on the following basis:
Bed and Breakfast (price based on 2 persons sharing € 623)
Full board (price from 4 persons onward, € 550 per person)
Self Catering: Price in La Ruina € 553 +costs for up to 4 people and in Los Establos, used as a self catering house for up to 6 people at € 1700,00€ Finca Iris from 770,00 + costs for up to 8 persons
This walking Costa Blanca package consists of the following hikes, which we have compiled in terms of progressing intensity and duration as much as possible:
Day 1 Sierra de Bernia, west ridge. In this hike you will walk the ridge of the Sierra de Bernia. To get there you will need to climb but the views are stunning.
Day 2 Circling the Puig Campana. This walk is marked by the Communidad Valenciana (Code PRV 289) and starts in Finestrat at El font Molí. A great hike of about 4 hours.
Day 3 Taming Pinion Ifach in Calpe. During this walk you climb the massive rock in front of Calpe. The walk is not long, but the second part is a bit tricky and tough and when hiking on a clear day you will have stunning sea views and may even see the island of Ibiza. You will have plenty of time for a second afternoon walk, Refugio Marnes Cau, Planises Refugio Marnes. A walk which starts right at your door.
Day 4 Hike around the lake of Guadelest. This is a wonderful walk around a reservoir in the inland of the Costa Blanca, the length is about 3.5 / 4 hours. It takes a car ride to get to the starting point of this route.
Day 5 The bernia circuit from Pinos. A walk close to Refugio Marnes and takes about 5 hours. This is quite a tough hike because of the climbing and descending.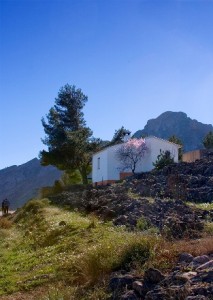 These are the scheduled walks for this hiking week package and before you take off to go hiking we  discuss the route with you. Additional walks can also be made, the choice is yours, as there are plenty of trails around!
Walking Costa Blanca; For hikers it is important to ensure you bring the proper hiking equipment, and it is the same for hiking in Spain. Please ensure you have:
Good walking shoes suitable for rocky uneven ground and climbing;
The itinerary;
A mobile phone with a sufficiently charged battery;
Plenty of water and some food;
The address and telephone numbers of Refugio Marnes;
For the more discerning hiker a GPS device or a good app for your Iphone or android.
Walking Costa Blanca a great idea especially of season