The riverbed of the Gorgos from Gata, hiking and walking Spain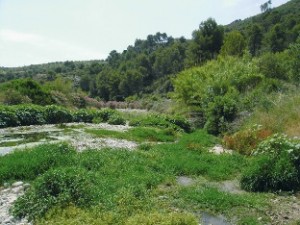 This walk takes about 3 hours, is of medium difficulty and goes off the beaten track.
The hike starts in Gata de Gorgos , behind the post office, recognisable by the yellow sign, at Avenida de la Marina Alta 160. From the car park take a right turn into Carrer de Teulada and continue until you cross Carrer del Bisbe Cervera. Here turn left and the church of Gata de Gorgos will come into sight.
Hiking and walking Spain a whole year trough pleasure:
Pass the church on your left and cross the bridge, passing high above the river. Turn right at the sign 'Camp de Vol "and follow a turn left and then a climb starts. "Cami la font de la Mata 'is taken straight onto the asphalt, and after a bend there is a trail on the left which is taken. Upon reaching the top you will follow the path, which is uneven and rocky, downwards. As you continue you will pass the ruin of an old farmhouse, then following the road to the left and then immediately a right turn is taken. A chain comes into sight with a concrete path leading to a well  'Font de la Mata'.
After having taken a look at this you can return and a small path on the left is taken. A little ruin is passed and this will eventually lead to the riverbed of the Gorgos. The riverbed is crossed and on the other side the trail continues upwards, this is the path leading to the village. Once having reached the top of the path a right turn is taken, it leads through a park. The trail ends at the rear of the town hall where you take the stairs leading to the front. The sign 'Font de la Mata' is followed and the first part of this hike is reversed to reach the parking lot.