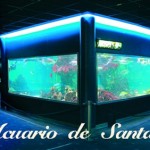 The Municipal Aquarium of Santa Pola, opened in July 1996, beautifully reflects the marine life of our coastal waters.
It is located at the "Plaza de Fernandez Ordoñez" and covers 700 m2. In the central hall are 9 large aquariums exhibiting the abundance of life in the Mediterranean. There is also a projection room.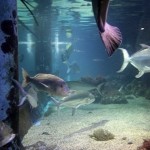 Hours:
Summer: Tue to Sat: 11:00-13:00 and 18:00-22:00.
Winter: Tue to Sat: 10:00 -13:00 and 17:00-19:00 (16 sep – 15 jun)
Sundays and bank holidays: 10:00-13:00.
Sunday afternoon and Mondays closed (all year round).
Admission: €2,50, €1,25 reduction for children and students.
Address:
Plaza de Fernandez Ordoñez s/n, 03130 Santa Pola
Tel: +34 966 69 15 32
Web: Santa Pola – Aquarium

Show on map