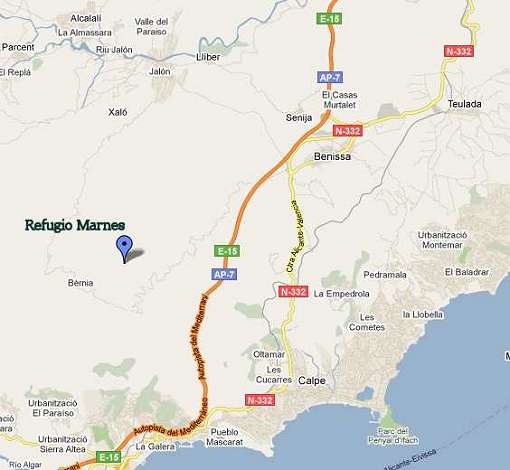 view Refugio Marnes in a larger map
The most obvious way to get here is to fly; you book your flight through a travel agency/flight shop.
Then you have to hire a car, which is also possible in advance. If you fly to Alicante, then travelling by car you can be at Refugio Marnes within one hour.
Route:
From Alicante airport take the AP7 highway north in the direction of Valencia. Take exit number 63 Benissa / Teulada / Gata de Gorgos. At the end of the slip road take the direction to Calpe on the N332. Drive through Benissa. Just outside Benissa take the turn right to Jalon/Alcalali. At the next junction (approximately 100 metres) cross the road in the direction of Sierra de Bernia Pinos [CV749]. Continue on the CV749 for about 8 Kilometres [its a small mountain pass] until you see, on your right hand the sign "Restaurante Pinos". Pass the restaurant and continue along the road for about another one and a half kilometres until you see a small blue bridge. Cross this bridge and turn immediately right, on to a steep road, continue along this road until on your left hand side, you see an old farm surrounded by almond trees. After this house, follow the signs to Refugio Marnes.
When travelling from the direction of Valencia southbound on the (AP7) also take exit 63 now called Benissa / Teulada / Calpe, the rest of the route is as described above.